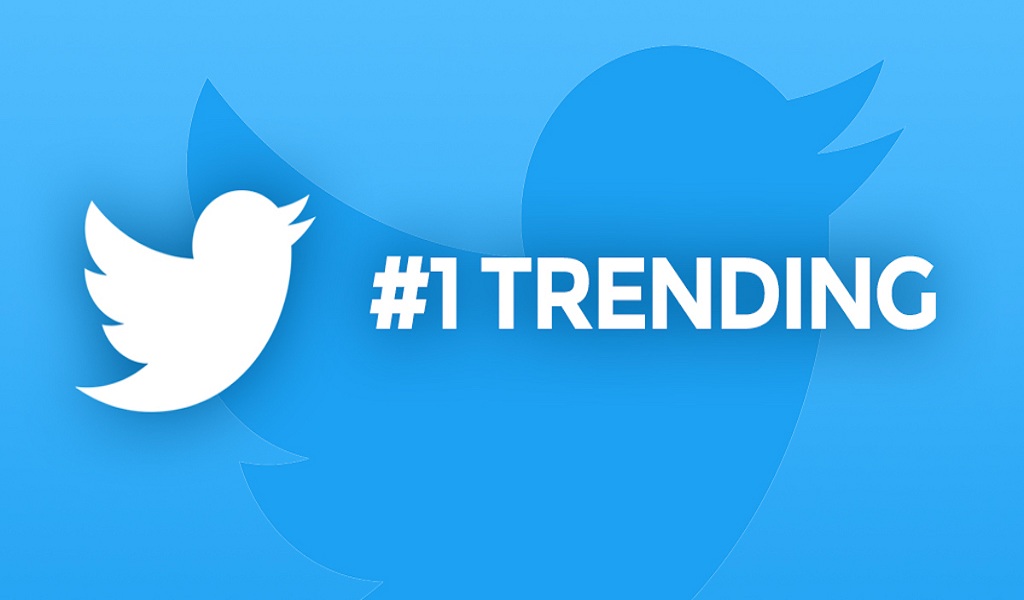 20
Feb

|
Reading Time: 6 minutes 46 seconds
|
by Ankush Rana
0
0
194
KNOW WHY #IndiaBeingSilenced IS TRENDING ON TWITTER | FIND THE COMPLETE STORY
This Monday morning has arrived with a trend on the social media mircro-blogging site, Twitter, and the hashtag is #IndiaBeingSilenced. Since it is our core job to get you the latest trend analysis with plain facts and easy to understand approach, let us try to understand what's making this hashtag trend on social media.
As we all are aware that India has been in the news Internationally for various reasons recently. For mass migration of labourers during covid-19 pandemic to Covid vaccinations being provided to various nations across the globe including Canada, Brazil, European & Southasian Nations. India also hit the news with its long running farmers protest that has crossed two months now. What happened at Red Fort during Republic day festivities last month was also witnessed by th entire world. Following this unfortunate incident, many protestors were detained by the Delhi Police and an involment of foreign consipiracy to break India socially and economically was also reported the India Intelligence department.
#IndiaBeingSilenced is supposedly fueld by the protestors who feel that actvists, journalists, farmers and their supporters are being silenced by the police forces, mainly Delhi Police.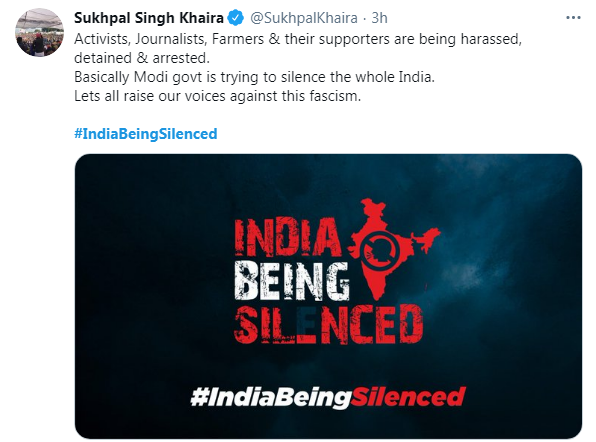 The farm bill protestors have accused the government of India for silencing voices across the nation and mainly people against the new farm bill have been contributing the hashtag #IndiaBeingSilenced. A recent event that ignited the hashtag has been the arrest of claimed environmental activist Disha Ravi from the silicon city of Bengaluru.
Disha Ravi, an environmental activist from Bengaluru, has been transferred to Delhi police custody.
In editing a "toolkit" to support farmers in their ongoing protests against the Indian government, the police have alleged that Disha was involved with Great Thunberg. 'Fridays for Future' co-founder Greta Thunberg first shared the document. Further inquiries will be carried out while Disha is being kept in custody.
"A Delhi court has remanded activist Disha Ravi to 5-day Delhi Police Special Cell custody for her alleged role in spreading 'toolkit' related to farmers protest," tweeted India's Public Broadcaster, PBNS from its official Twitter handle.

"21-year-old #DishaRavi has been sent to five-day police custody. Visuals of her after she was brought to Delhi. She was arrested from Bengaluru in connection with the #GretaThunberg 'toolkit' case," a tweet from the official Twitter handle of The News Minute.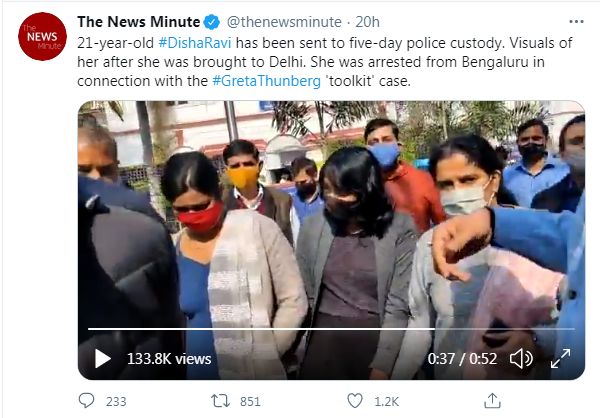 "Disha Ravi, arrested by CyPAD Delhi Police, is an Editor of the Toolkit Google Doc & key conspirator in document's formulation & dissemination. She started WhatsApp Group & collaborated to make the Toolkit doc. She worked closely with them to draft the Doc," a statement from the Official Social Media handle of Delhi Police.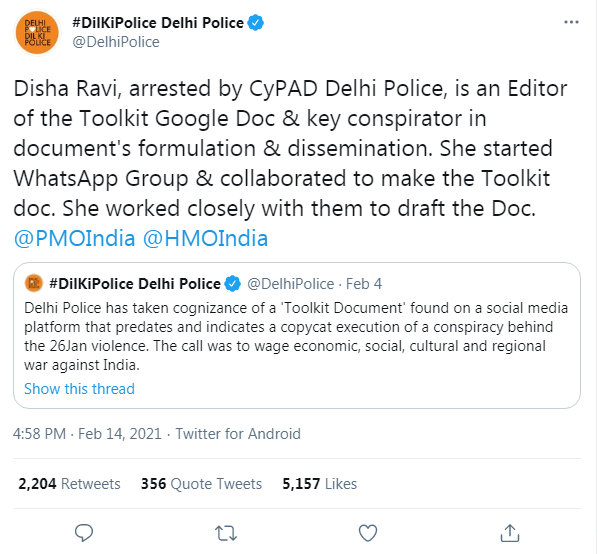 Delhi police had already registered a probe into the matter of 'Toolkit Document' that circulated on the social media indicating an International Conspiracy behind the 26 January violence that agitated to Red Fort flag hoisting.
"The call was to wage economic, social, cultural and regional war against India," said Delhi Police in its previous statement on Twitter.
Delhi Police in a series of tweets shared the details on the arrest of Disha Ravi.
"In this process,they all collaborated with pro Khalistani Poetic Justice Foundation to spread disaffection against the Indian State. She was the one who shared the Toolkit Doc with Greta Thunberg," said Delhi Police from its official Twitter handle.

"Later, she asked Greta to remove the main Doc after its incriminating details accidentally got into public domain. This is many times more than the 2 lines editing that she claims," added Delhi Police.

Although Disha hasn't given any comments to the media reporters when they asked on the matter, however some reporters can be heard in the following video, asking if Disha Ravi is crying. The reporters can be heard asking similar questions during the chase outside the court.
Accused Disha Ravi was produced in the Hon'ble court on Monday where she has been remanded to police custody for 5 days. Further police investigation is under process.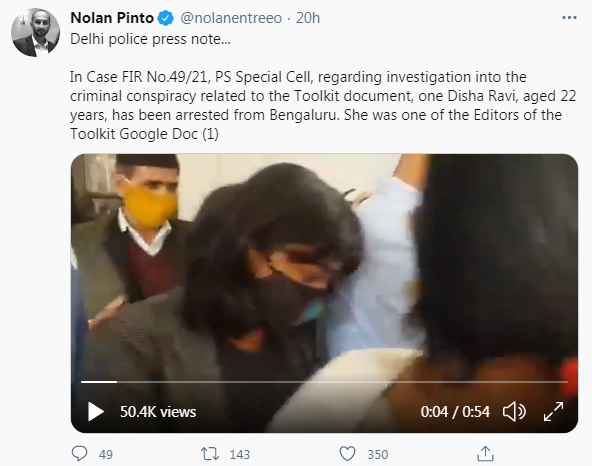 Another reason as why #IndiaBeingSilenced is trending is the announcement of indefinite strike by a group of Manipur journalists. The strike comes after journalists of the state had submitted a memorandum to Chief Minister N Biren Singh, urging him to ensure 'Free Function' of the press in the state.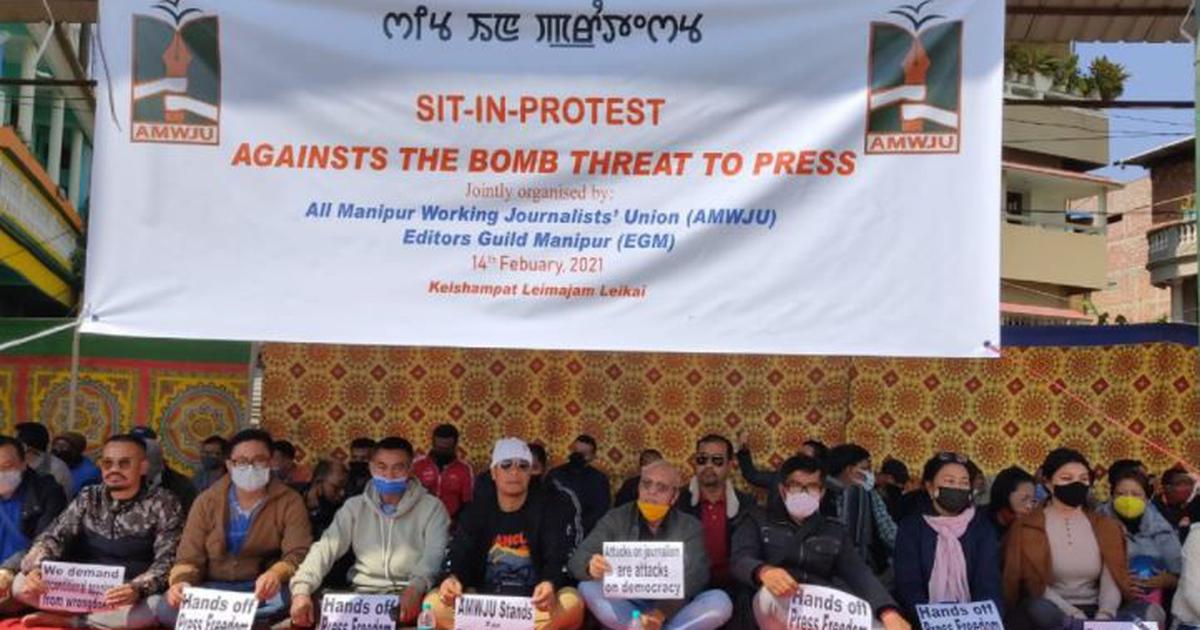 On Sunday, the daily news circulation exercise came to a standstill in Manipur after journalists went on an indefinite strike to protest a grenade attack on a regional daily's office, PTI reported. As all media outlets in the state joined in the strike, none of the newspapers reached the stands and the local television networks postponed news bulletins.
At the office of Poknapham, Manipur's largest circulated regional newspaper, in Keishampat Thiyam Leikai area of Imphal West district about 6.30 pm on Saturday, a hand-grenade was lobbed. The office also issues a sister newsletter, the Chronicle, in addition to Poknapham.
For more such trending news, do check our latest news and updates section and blogs on Checkbrand.online. You are just a few clicks away from being updated about What's Trending in real time.
CATEGORIES
HIGHLIGHTS
Popular Tags