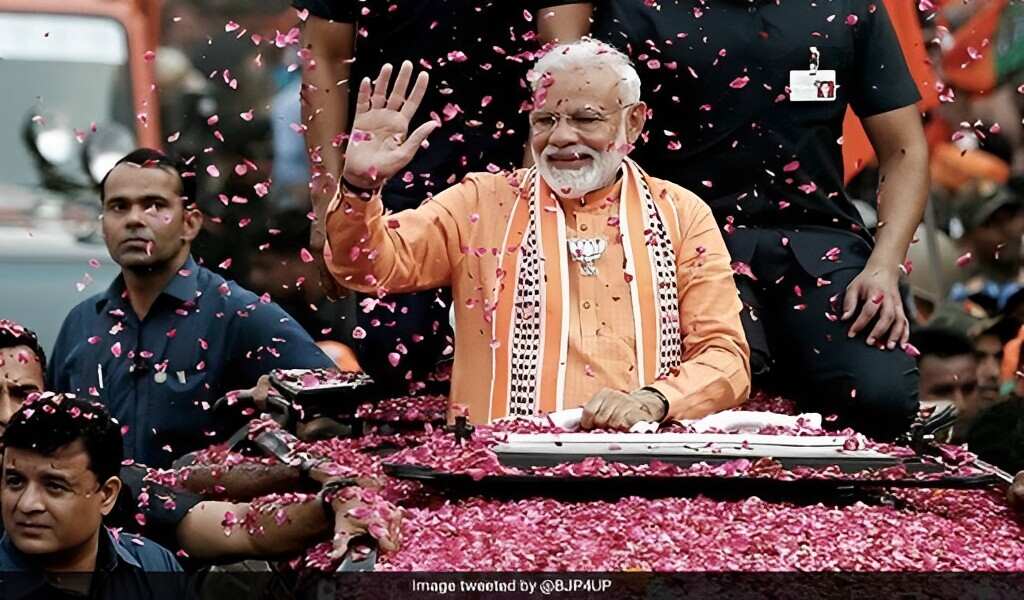 16
Jan

|
Reading Time: 3 minutes 8 seconds
|
by Admin
0
0
302
PM's Roadshow in Delhi today, Ahead of the Mega-BJP Meet, Boom in Social Media With 67.8% Positive Sentiments: CheckBrand
Today, Prime Minister Narendra Modi will lead a massive roadshow in the national capital. The BJP's two-day national executive meeting begins today at the NDMC Convention Centre here. The ceremony will be attended by BJP national president JP Nadda, Union Ministers including Home Minister Amit Shah, Chief Ministers of BJP-ruled states, and other top party officials.
The roadshow of Prime Minister Narendra Modi will be from Patel Chowk to Parliament Street. Prior to a modification in the party's agenda, the roadshow was originally scheduled for Tuesday.
CheckBrand assessed India's Prime Minister Narendra Modi's digital audience influence. According to CheckBrand, PM Modi has received 407.7K digital engagement in the previous 5 days.
Furthermore, he garnered 67.8% positive sentiments, 8.9% negative sentiments and 23.3% neutral sentiments from individuals across the web, also he has been searched for almost 11485 times on the internet as of January 16, 2023.
CheckBrand analysis:
India's PM
Narendra Modi


Search Engine Score

Positive Sentiments

Negative Sentiments

Digital Engagement

Facebook
Followers

Twitter Followers

16th Jan

11485

67.8%

8.9%

407.7K

47M

85.8M

*source Google Trends
The movement of vehicular traffic in areas of Delhi is expected to be disrupted, and specific traffic measures have been put in place to ensure the smooth flow of traffic, according to the Delhi Police.
This is the party's first major gathering after its resounding victory in Gujarat. Earlier, in his home state of Gujarat, Prime Minister Modi performed a massive road display that spanned more than 50 kilometres and lasted more than five hours.
According to Delhi Police statement issued for the roadshow,
it will broad public involvement on Sansad Marg from Patel Chowk to the Sansad Marg-Jai Singh Road Junction on January 16 at 3 p.m. In addition, special traffic management systems would be in place to guarantee seamless traffic management throughout the roadshow.
According to the traffic advisory, Ashoka Road, Sansad Marg, Tolstoy Road, Rafi Marg, Jantar Mantar Road, Imtiaz Khan Marg, and Bangla Sahib Lane will be closed from 2:30 p.m. to 5 p.m. on January 16.
During the two-day executive meeting, a massive exhibition focused on six distinct themes, including Good Governance First, Inclusive and Empowered India, Vishwa Guru Bharat, would be presented at the NDMC Convention Centre, according to BJP national secretary Vinod Tawde.
A meeting of the party's national office bearers, state unit presidents, and different organisational secretaries will be conducted at the BJP headquarters prior to the national executive.

CATEGORIES
HIGHLIGHTS
Popular Tags