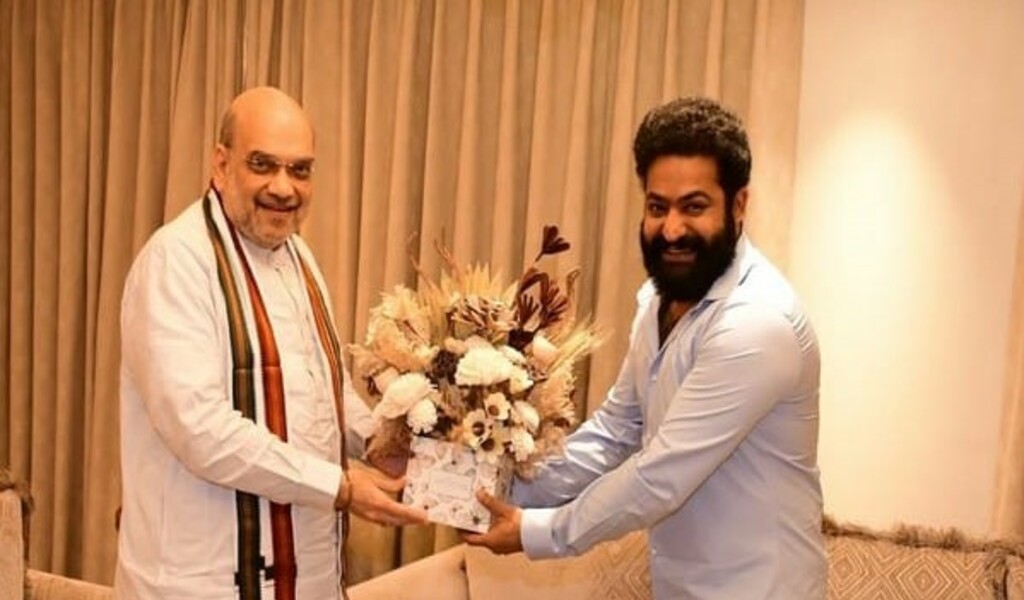 22
Aug

|
Reading Time: 2 minutes 32 seconds
|
by Admin
0
0
763
Home Minister Amit Shah Meets Telugu Superstar Jr NTR, Shared Picture Created Buzz on Social Media
Home Minister Amit Shah shared pictures with Telugu cinema star Jr NTR on social media after having a meeting with him in Hyderabad on Sunday. The development took place after he recently watched RRR and liked Jr NTR acting; hence he expressed his desire to meet him in Hyderabad. He also had a scheduled for dinner just before leaving Hyderabad.
Amit Shah wrote on his Twitter account while sharing his picture with Jr. NTR, "Had a good interaction with a very talented actor and the gem of our 'Telugu Cinema', Jr NTR in Hydrabad".
Had a good interaction with a very talented actor and the gem of our Telugu cinema, Jr NTR in Hyderabad.

అత్యంత ప్రతిభావంతుడైన నటుడు మరియు మన తెలుగు సినిమా తారక రత్నం అయిన జూనియర్ ఎన్టీఆర్‌తో ఈ రోజు హైదరాబాద్‌లో కలిసి మాట్లాడటం చాలా ఆనందంగా అనిపించింది.@tarak9999 pic.twitter.com/FyXuXCM0bZ

— Amit Shah (@AmitShah) August 21, 2022
The superstar Jr. NTR has been widely appreciated for his recently played legendary role as a tribal leader, Komaram Bheem, in his last movie RRR.
The CheckBrand determined that Jr. NTR's popularity on social media platforms has gained him 36.6% positive sentiments from people.
He has been searched for 1553 times on the internet and thoroughly trending on social media platforms. Along with this, as per the evaluation of CheckBrand, his digital engagement reached up to 325.4K on 21st-22nd of Aug, 2022.
*Source Google Trends
In addition to this, Shubham Kumar, one of the supporters of Jr. NTR wrote from his twitter handle, @ishubhamrajpoot – "When the most Powerful Leader in the country appreciates the biggest Mass Hero!" while tagging the picture of Amit Shah with Jr. NTR on Twitter.
In addition, Union minister Amit Shah also met Telugu film producer and media baron Ramoji Rao at Ramoji Film City in Telangana's Hyderabad on Sunday.
Union Home Minister Amit Shah posted on Twitter and stated, "The life story of Ramoji Rao Garu has inspired millions of people working in journalism and the film industry. I visited him today at his Hyderabad home."
CATEGORIES
HIGHLIGHTS
Popular Tags