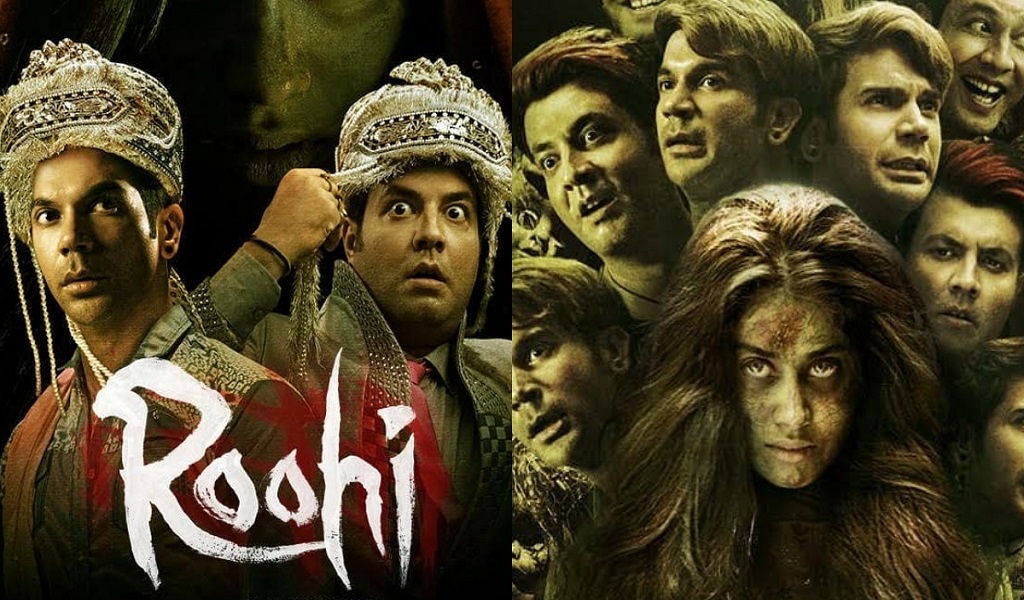 20
Feb

|
Reading Time: 3 minutes 14 seconds
|
by Tanisha Tiwari
0
0
17
Janhvi Kapoor Shares Glimpse of Roohi
Roohi, the Bollywood's fantabulous and much awaited horror comedy will be releasing on March 11, 2021.
Actor Rajkumar Rao recently shared an Instagram post showing the very first glimpse of the movie starring Janhvi Kapoor and Varun Sharma along.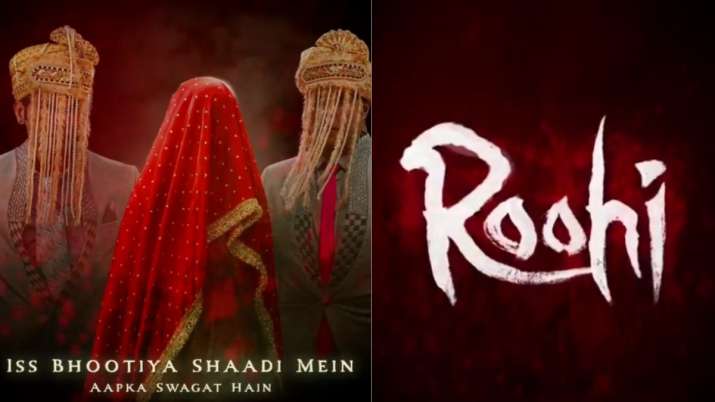 In the teaser which was shared by both Jahnvi and Rajkumar, it seems that the story revolves around a ghost marriage.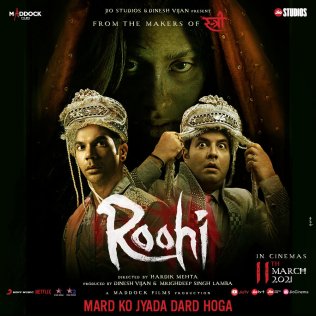 Rajkumar sharing the post wrote "Dulhan ki tarah sajenge theatres. Magar Dulha le jaegi Roohi! Iss Bhootiya Shaadi mein aapka swagat hai."
Similarly Jahnvi shared a post inviting everybody to the bhootiya wedding when she wrote "Iss bhootiya shadi mei aap sabka swagat hai."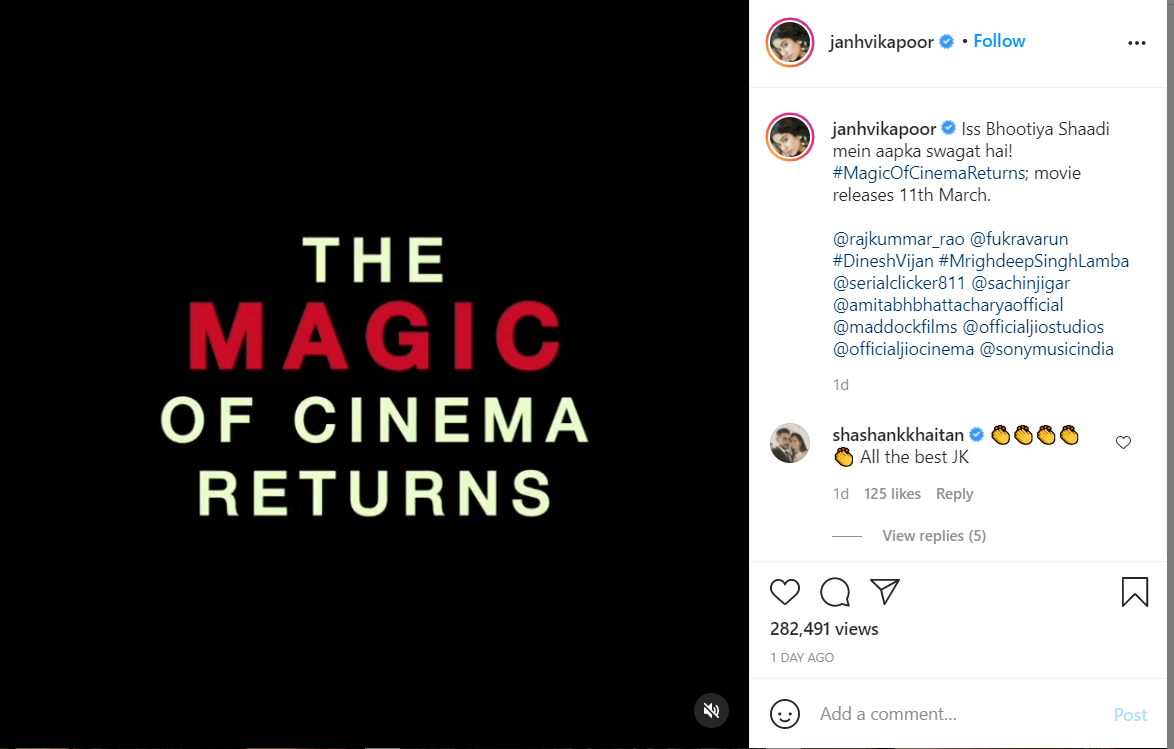 Before signing into the plot of the movie, let's have a look at some of the best internet responses.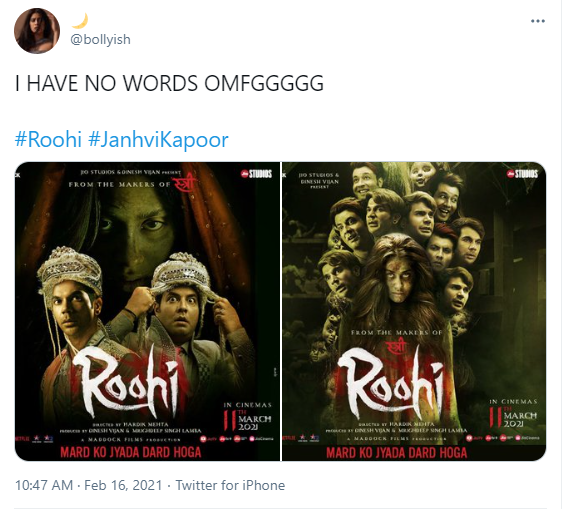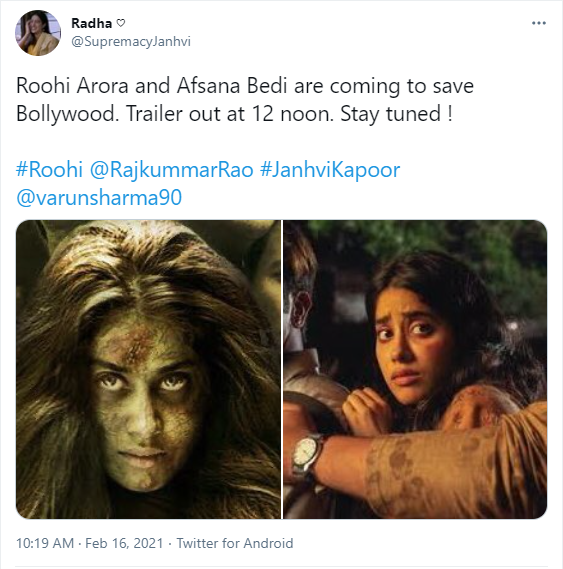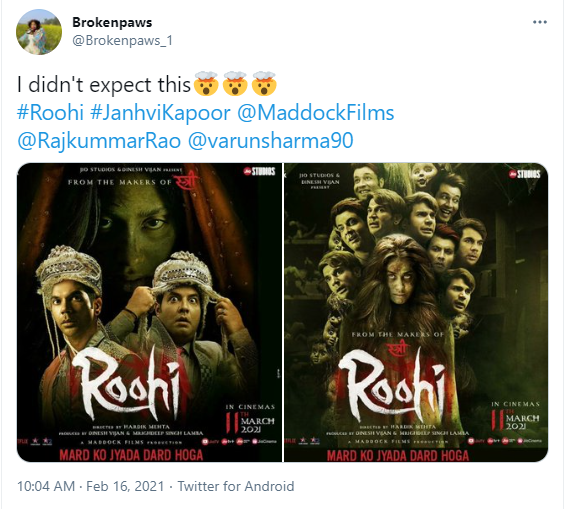 A user said " This was so creepy and funny at the same time" and yes all we agree to that!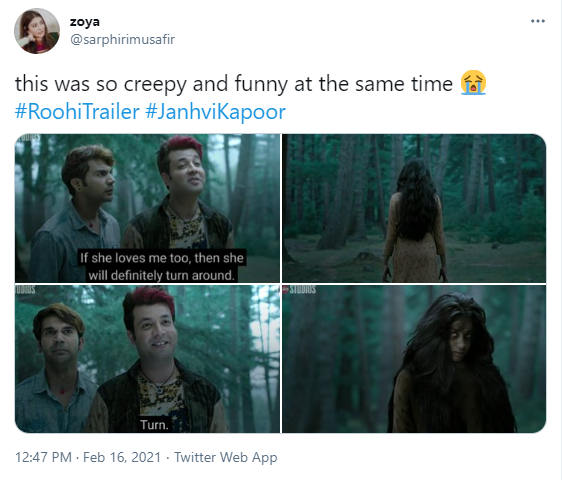 Directed by Hardik Mehta, who is adored for making Stree, Roohi is a story of a ghost who puts groom to sleep while possessing the brides. The movie was named Roohi Afzana and Roohi Afza previously before it finally shared the name Roohi.
"We are all storytellers driven by our love for cinema in all its vibrant forms. While Stree was a genre bending tale that gave audiences something never seen before, Roohi takes this vision a step further by offering the same brand of spine chilling scares and quirky comedy. With a partner like Jio Studios that shares our passion for the eponymous "bada parda", we hope Roohi rekindles the audience's long standing romance with the silver screen. It is a film tailor made to be viewed at your nearest theatre," said producer Dinesh Vijan while sharing the glimpse of the film.
The lead actress shared some of the details of the film stating: Previously, the film underwent multiple name changes - earlier, it was named Roohi Afzana from Roohi Afza. With a release date in March, Roohi will be one of the first movies to have a theatrical release after the Ministry Of Information And Broadcasting allowed cinema halls across the country to operate at full capacity from February 1, however, keeping COVID-19 safety protocols in place.
The movie is produced by Maddock films and stares Dhadak fame Jahnvi Kapoor, Stree boy Raajkumar Rao and Varun Sharma, who is recognized for his role in Fukrey.
For more trends, follow Checkbrand blogs!
CATEGORIES
HIGHLIGHTS
Popular Tags