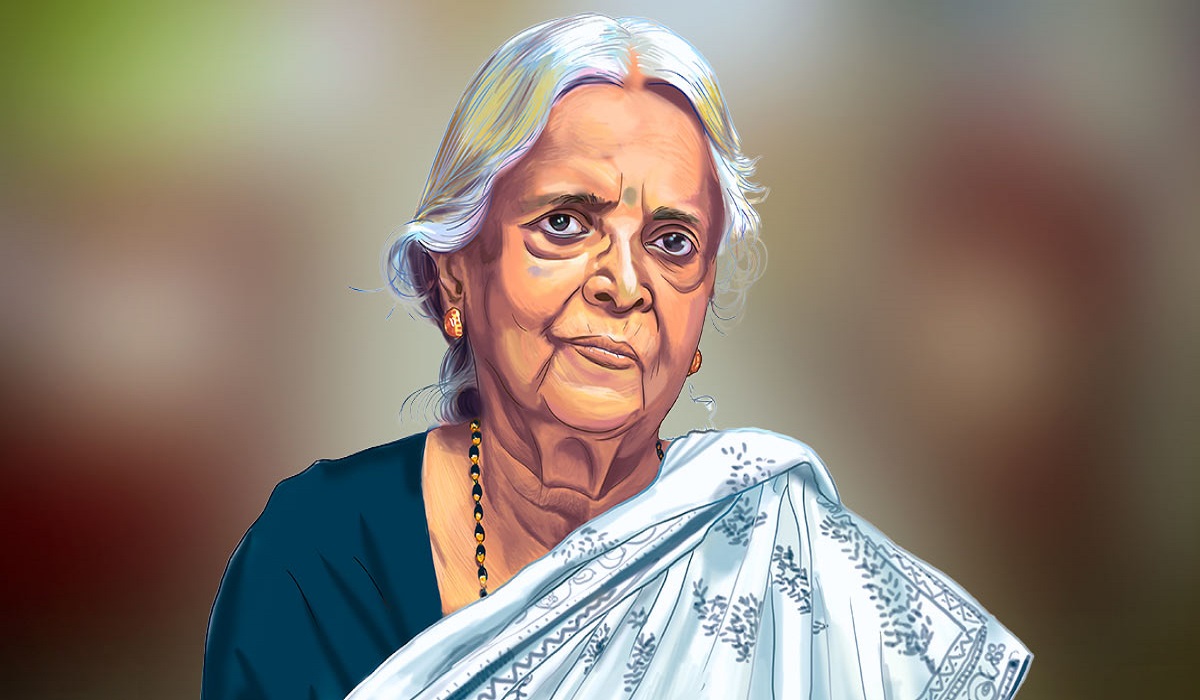 29
Dec

|
Reading Time: 4 minutes 50 seconds
|
by Ankush Rana
1
0
838
EMINENT POETESS SUGATHAKUMARI DIES POST COVID-19 INFECTION | INDIA'S FEARLESS ENVIRONMENTALIST IS NO MORE
When people die, the world they embraced as a memory throughout their lives dies with them. When a poet dies, a whole chapter of unique poetry ends, yet the poems stay alive forever. Another era of poetry ended today, and we lost the nation's eminent Poetess and Environmental activist Sugathakumari. She was tested positive for Noval Corona Virus and was undergoing medical treatment in the state capital Thiruvananthapuram.
As informed by the medical authorities, the 86-year-old Poetess was on ventilator support in the government hospital of Thiruvananthapuram, Kerala. She was also famed as "Sugatha Teacher" among her hundreds of followers and admirers. She was admitted to an ICU (Intensive Care Unit) on eve of 21st December after she faced medical illness and was diagnosed with Covid-19 positive results.
SugathaKumari was famous for her poems filled with philosophical quests and was symbolized as one of the most celebrated Malayalam Poetess. She had a career as a writer for more than 60 years in which she fought for women's empowerment. In her writings, she strongly opposed the suppression of women in our society. She also wrote against the exploitation of nature and the mother earth.
The poetess before catching covid-19 infection was already suffering with severe type of bronchial pneumonia and post effect of covid-19 which attacks majorly on lungs deteriorated her medical condition.
Many took to social media to pay tributes to the Fearless Poetess of the century.
"Poetess and voice of the voiceless and great friend of Mother Earth, Sugathakumari, passed away today. Great loss #Environmentalist," Alphons KJ, Former Minister of Tourism for the Kerala Government.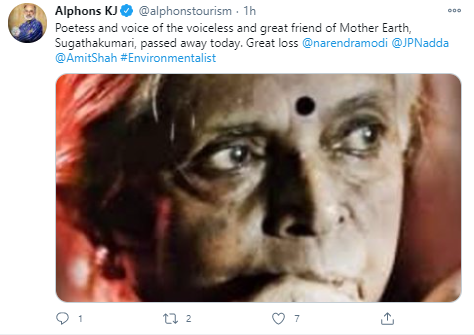 "Rest in peace Ma'am. Have fond memories of receiving multiple debating and elocution awards from her. Folded hands #SugathaKumari," said actor Prithviraj Sukumaran.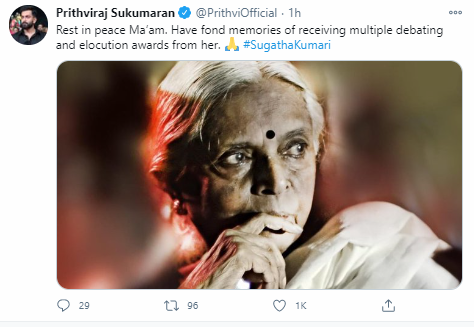 "Deeply saddened by the demise of renowned poet, women's rights activist, an environmentalist & a multifaceted personality, Smt. Sugathakumari Teacher," said V Muraleedharan, Minister of State for External Affairs.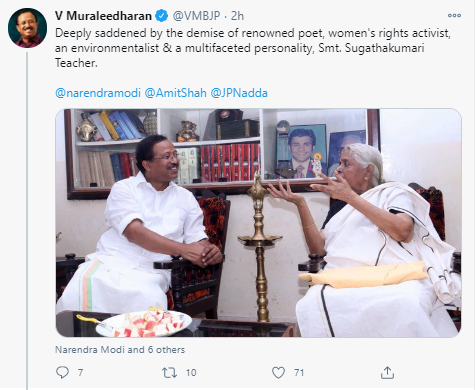 "Renowned poet and environmentalist Sugathakumari passes away; Malayalam lost compassionate mother mind. She asked the society (in her famous poem 'Rathrimazha' Rain at Night) 'A diseased part can be cut and removed But what can be done to the poor heart Deeply diseased?',"said J Nandakumar, All India Convenor of Prajna Pravah.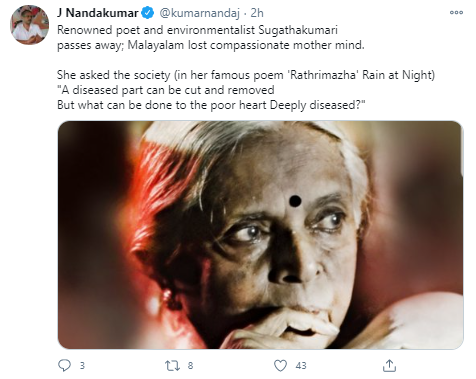 "Deeply saddened to learn of the passing away of poet Sugathakumari. As a doyenne of Malayalam literature & with a career that spans decades, she has left an indelible mark on Kerala's cultural life. We extend our deepest sympathies to her family & join them in sorrow," said Pinarayi Vijayan, Chief Minister of Kerala.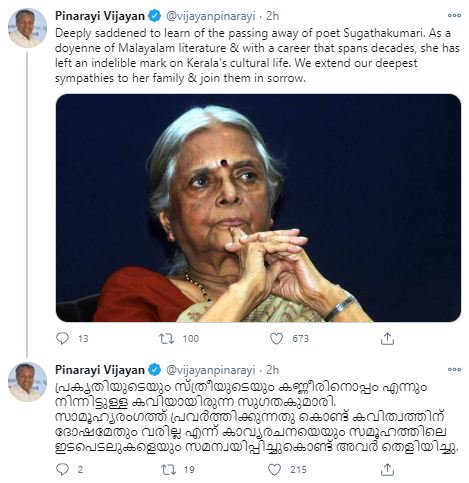 "I am saddened to learn about the passing of Sugathakumari teacher, poet, activist and winner of Padmasri, Kerala Sahithya Academy award and many more. A huge loss for Indian literature. My deepest condolences to her family and friends. Om Shanti," said Anand Neelakantan, Author & Columnist.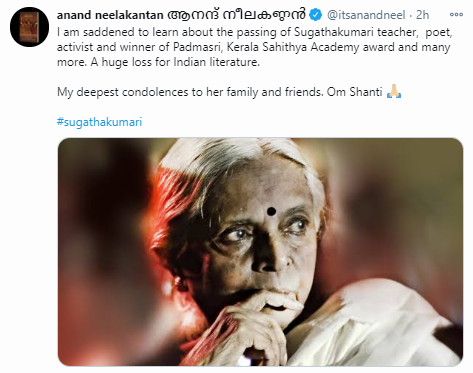 "My tribute to someone who influenced me hugely as Environment Minister, poet-activist Sugathakumari," said Jairam Ramesh, Member of Parliament & Former Environment Minister.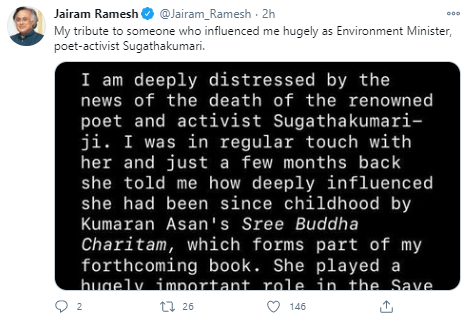 We lost one of India's fearless writer who never hesitated while being a strong critic of injustice and whose writing always went unbiased and always in the favour of truth. She will be remembered for her fearless stand against the construction of Hydro Power Project in the silent valley of Western Ghats and in her recent environmental campaign against the construction of Aranmula Airport.
For more such trending news, do check the latest news and updates section and also find our blogs on Checkbrand.online. You are just a few clicks away from being updated about
CATEGORIES
HIGHLIGHTS
Popular Tags