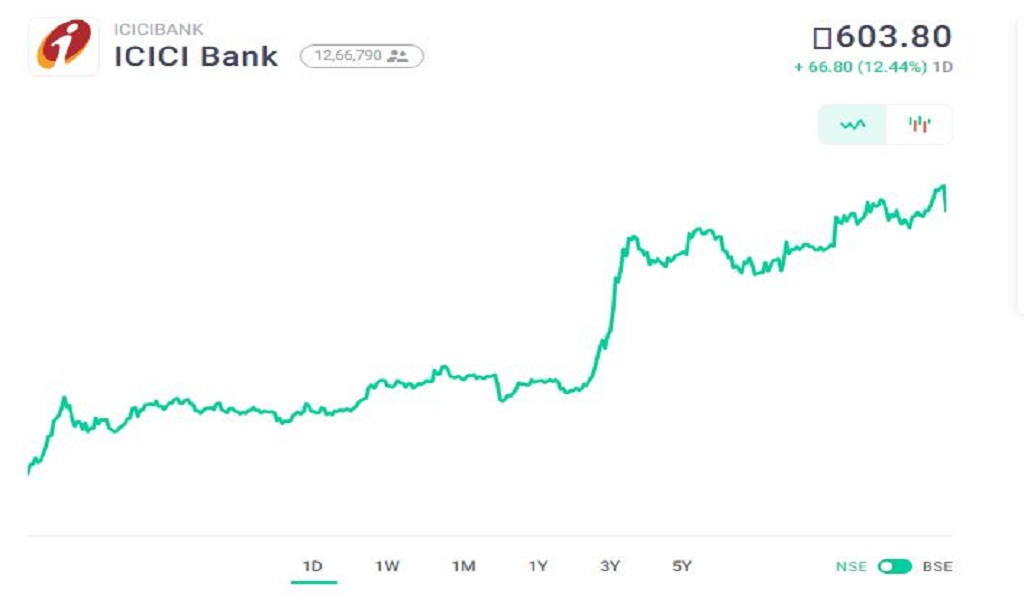 01
Feb

|
Reading Time: 2 minutes 56 seconds
|
by Ankush Rana
0
0
834
ICICI BANK SURPRISED THE SHARE MARKET WITH SHARE PRICE INR 603.80 | CLSA INCREASES THE TARGET PRICE FROM INR 675 TO INR 800, LISTED IN THE TOP GAINERS
With a major core PPOP beat (+17.7 percent YoY), just 1.1 percent slippage and less than 0.4 percent in restructuring, ICICI Bank delivered solid Q3 FY21 results, contributing to almost stabilized profitability in Q3 FY21 itself (14 percent ROE). The retail slippage jump (2x vs FY20) was higher than expected and a major positive surprise was the corporate slippage of 1 percent of loans, reflecting its growth over the past 3-4 years in underwriting.
CLSA raised its earnings by 9%-18% over FY21-23CL, taking into account lower credit rates and a stronger PPOP. CLSA expects the ROE of ICICI Bank to normalize by FY23CL at +15 percent, with possible upside guided during the next two years by the under-shooting of credit costs. CLSA expects the rerating phase of ICICI Bank to proceed and therefore raise its target price from Rs 675 to Rs 800.
The slippage of Rs 70 billion by ICICI Bank (1.1 percent of loans) and the restructuring of less than 0.4 percent of loans favorably shocked shareholders. Over FY15 - 20, ICICI Bank had +30 percent Non Performing Assets in the corporate books.
A significant turning point is obviously illustrated by the FY21 slippage of just 1 percent in its corporate book. In 9M FY21, retail slippage was 2.25 percent and will double to +3 percent versus FY20, which in the sense of the pandemic, is manageable. In non-NPA provisioning, ICICI Bank carries Rs78 Billions, which will have a risk buffer against ECLGS and restructuring. In FY22/23CL, CLSA expects credit costs to normalize to 120/100bps with the ability to undershoot typical long-term credit costs.
The growth of core PPOP rose 18 percent YoY and beat their forecast by 4 percent. The domestic growth of ICICI Bank amazed with the sector hike of 7.5 percent QoQ growth and 12 percent growth over the past two years, led by 7.5 percent QoQ retail loan growth. In spite of accounting for interest reversals, NIM strengthened by 10bps QoQ. As interest reversals decrease and surplus liquidity is put to usage as growth picks up, management expects NIM to trend higher. CLSA lifted their forecasts of FY22/23CL PPOP by 8%.
For more such trending news, do check our latest news and updates section and blogs on Checkbrand.online. You are just a few clicks away from being updated about What's Trending in real-time.
CATEGORIES
HIGHLIGHTS
Popular Tags