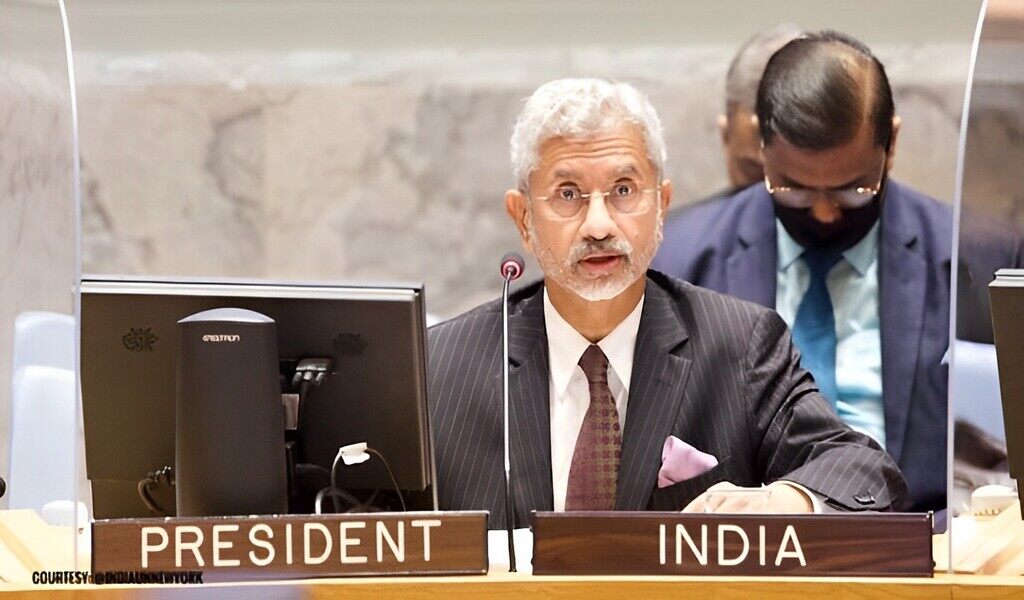 15
Dec

|
Reading Time: 3 minutes 43 seconds
|
by Admin
2
0
1484
"Hosting Osama Bin Laden...' Jaishankar slams Pakistan before the UN Security Council", India's Foreign Minister received astonishing 91.4% Positive Sentiments : CheckBrand
India responded strongly to Pakistan's raising of the Kashmir issue in the UN Security Council yesterday, claiming that a country that sheltered murdered Al Qaeda terrorist Osama bin Laden and attacked a neighbouring Parliament lacks the qualifications to "sermonise" in the highest UN organ.
External Affairs Minister Dr. S Jaishankar stated that the UN's legitimacy is dependent on its successful response to today's main concerns, including as pandemics, climate change, wars, and terrorism.
India's External Affairs Minister's digital audience influence was evaluated by CheckBrand. Dr. S Jaishankar had amazingly 124.6K digital interactions in the last 3 days only, according to CheckBrand.
Furthermore, he garnered 91.4% positive sentiments and 8.6% negative sentiments from individuals worldwide. He had been searched almost 5227 times on the internet as of December 15, 2022.
CheckBrand analysis:
India's MEA
Dr. S Jaishankar


Search Engine Score

Positive Sentiments

Negative Sentiments

Digital Engagement

Twitter Followers

15th Dec

5227

91.4%

8.6%

124.6K

2.2M

*source Google Trends
"We are obviously focused today on the urgency of reforming multilateralism. We will naturally have our particular views, but there is a growing convergence at least that this cannot be delayed any further," said Dr. S. Jaishankar, who is heading the chair at India's signature event on reformed multilateralism.
"While we search for the best solutions, what our discourse must never accept is the normalisation of such threats. The question of justifying what the world regards as unacceptable should not even arise that certainly applies to state sponsorship of cross-border terrorism. Nor can hosting Osama bin Laden and attacking a neighbouring Parliament serve as credentials to sermonize before this Council," he further said.
On December 13, 18 years ago, terrorists from Pakistan's Lashkar-e-Taiba (LeT) and the Jaish-e-Mohammed (JeM) opened fire on the Parliament complex in New Delhi, killing nine people.
Mr. Jaishankar's tough words came after Pakistan Foreign Minister Bilawal Bhutto brought up the Kashmir issue during a Council debate on reformed multilateralism.
Mr Jaishankar arrived at the UN on Tuesday to preside over two signature events on counter-terrorism and reformed multilateralism, being held under India's current Presidency of the UN Security Council.
When Mr Bhutto spoke before the Council, India's Permanent Representative to the UN, Ambassador Ruchira Kamboj, was chairing the debate.
Tensions between India and Pakistan have been on boiling point after New Delhi abolished Article 370 of the Indian Constitution to abolish Jammu and Kashmir's special status on August 5, 2019. Pakistan reacted angrily to India's decision over Kashmir issue, downgrading diplomatic ties and expelling the Indian representative.
India has firmly said to the international world that the repeal of Article 370 is a domestic affair. It also responded to Pakistan encouraging to accept reality and refrain from spreading anti-India propaganda.
India has expressed its wish for regular neighbourly ties with Islamabad in an atmosphere free of terror, animosity, and bloodshed.

CATEGORIES
HIGHLIGHTS
Popular Tags