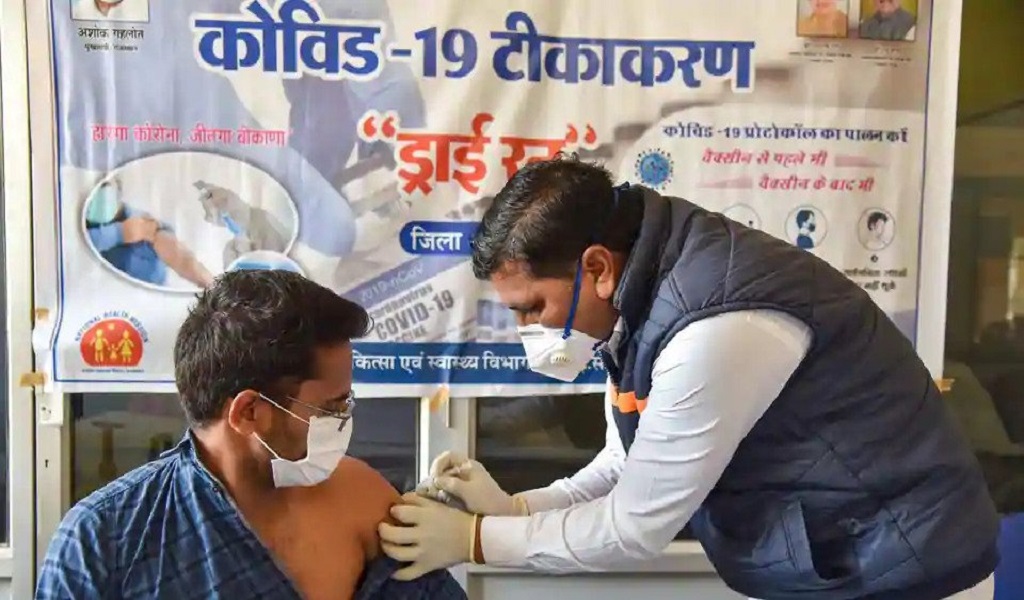 16
Jan

|
Reading Time: 5 minutes 27 seconds
|
by Ankush Rana
0
0
2155
Indian Runs World's Largest Vaccination Drive For Covid-19 | PM Addresses The Nation At The Launch Program
The world's largest-ever vaccination drive is happening in India on 16th January, with 3000 plus vaccine centres across the Nation vaccinating the first day lot of 300,000 health care professionals and cleaning staff personnel, with 100 persons at each vaccine centre.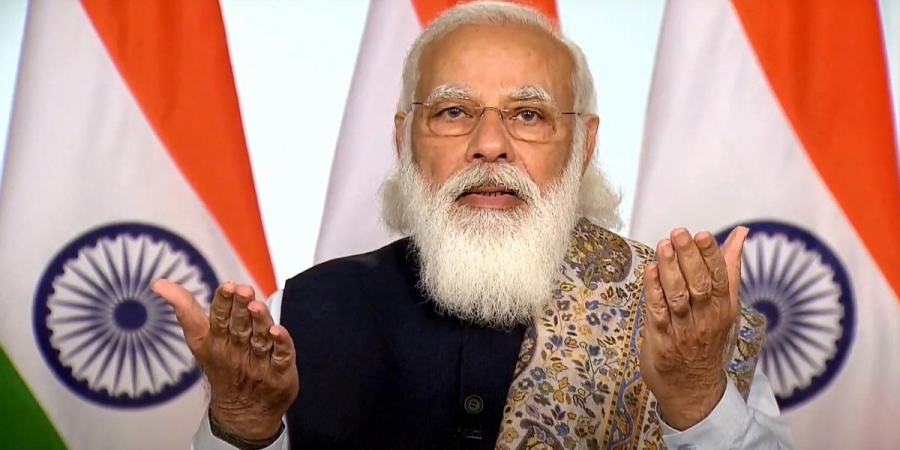 10:30 am, Indian Prime Minister Narendra Modi addressed the nation and launched the world's largest vaccination program. He also advised the citizens - not to get careless with covid-19 precautions after getting vaccinated. "There are two doses for the vaccine at a gap of one month, one has to get both the vaccine doses otherwise it won't benefit. I urge all the citizens to continue with covid-19 precautions post-vaccination, to continue keeping face masks, and maintaining social distancing. We're all in this together and we'll unanimously defeat corona," said Prime Minister Narendra Modi in his statement.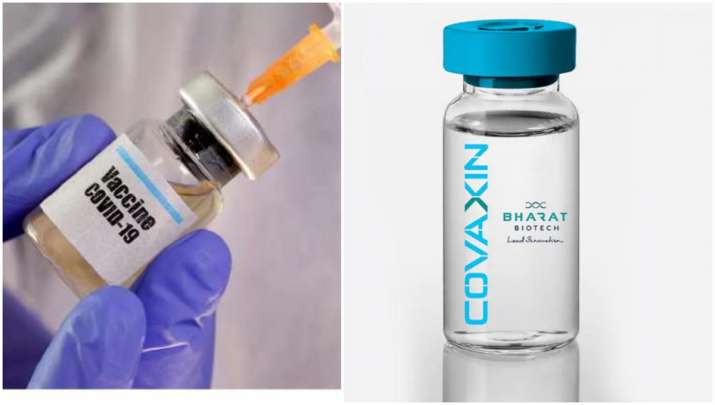 "Our fight with corona is of self-confidence and self-reliance and Indian citizens have shown a unity in the fight against corona," said Narendra Modi, Prime Minister of India.
"India has a trustworthy image worldwide in the field of medicine and it has developed not in recent years but decades of India's service to the world. I would like to inform you that India today delivers 60 percent of the world's total child health crucial vaccines. The world trusts India and India's standard of medical testing and this is based on our successful track record," he added.
"When the first covid-19 case arrived in India, we weren't prepared for Covid-19; we didn't have manufacturing hubs for PPE kits and required safety outfits. We initially had to import these gadgets but we quickly got a hold of them. We started manufacturing our PPE kits, exponentially increased our number of testing centres to more than 2300 and also started exporting PPE kits and critical medicines to help other nations, to save many more lives," The Indian Prime Minister further added to his statement.
Before this vaccination drive, India had already conducted dry runs through various districts across the country in different phases. The purpose was to help understand the administration in organizing today's event effectively.
The entire social media got pumped with the hashtag #largestvaccinedrive
Meanwhile you can find Indian Prime Minister's complete speech as below.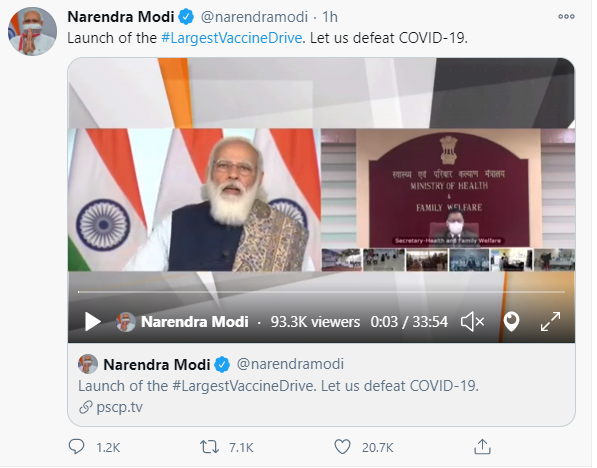 "The way India has stood firm & fought Covid under the strong leadership of PM Shri @narendramodi, is a matter of pride for every Indian. With the launch of the world's #LargestVaccineDrive by the PM today, India is on the way to become a #COVID free nation. सर्वे सन्तु निरामयाः," said Indian Union Minister Prakash Javadekar.

"We have around 2300 testing labs across the nation. We are self-reliant for masks and PPE kits now: PM @narendramodi #LargestVaccineDrive," tweet Prasar Bharati News via its official Twitter handle.
"Today, many of those scientists who had been involved in making vaccine against #Corona for the past several months deserve special praise. In such a short time, India has developed not one, but two Made in India vaccines: PM @narendramodi #LargestVaccineDrive," said PIB India.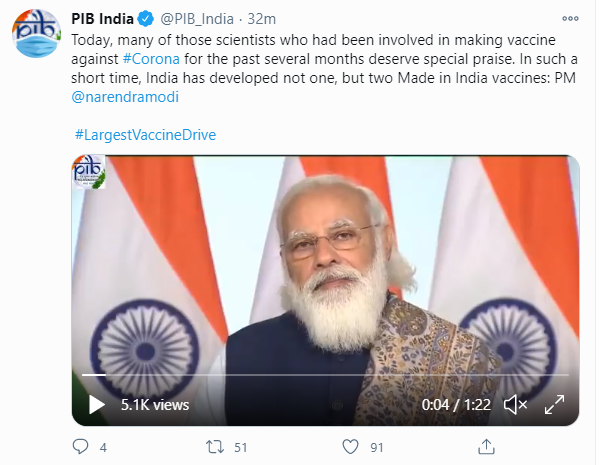 "We salute our doctors, nurses, healthcare workers for making great efforts at this time. They are the real heroes of the #LargestVaccineDrive. Vaccine will save us from the Covid virus but we should support it by use of masks, frequent handwashing & maintaining physical distance," said BJP President & MP, J. P. Nadda.

"A proud moment as PM @narendramodi launched the world's #LargestVaccineDrive against COVID-19. 1st phase to start with healthcare workers, both in govt & private sectors including ICDS workers. Adequate doses of both COVISHIELD & COVAXIN will protect citizens from this pandemic," said Ravi Shankar Prasad, Union Minister of Law, GOI.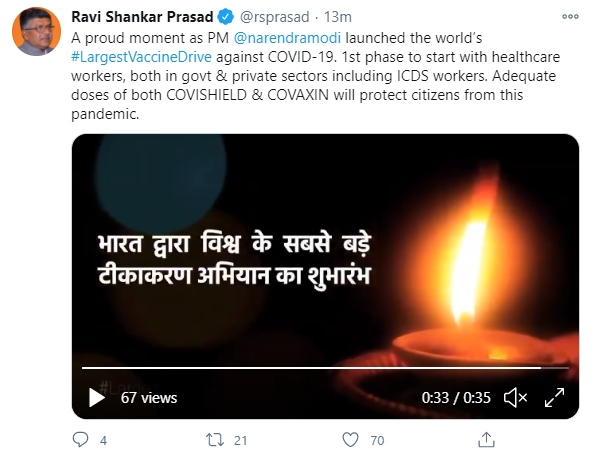 "Health workers are being vaccinated first against #COVID19! A sanitation worker was first, along with Dr. Randeep Guleria, Director, AIIMS," a tweet from UNICEF India.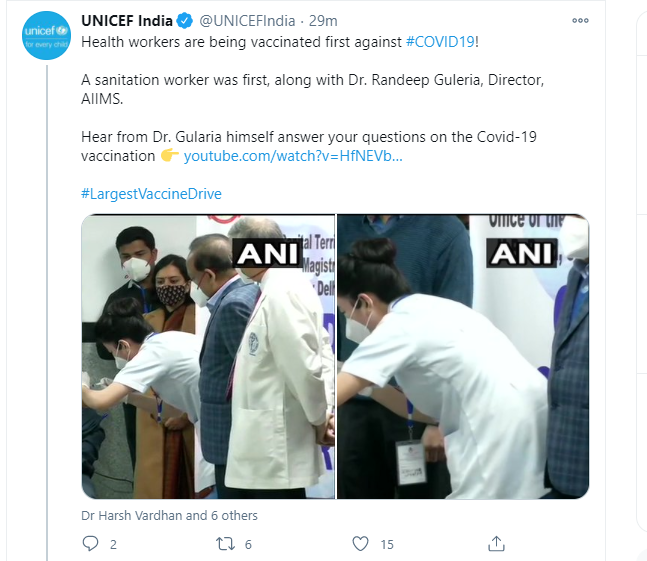 For more such trending news, do check our latest news and updates section and blogs on Checkbrand.online. You are just a few clicks away from being updated about What's Trending in real time.
CATEGORIES
HIGHLIGHTS
Popular Tags