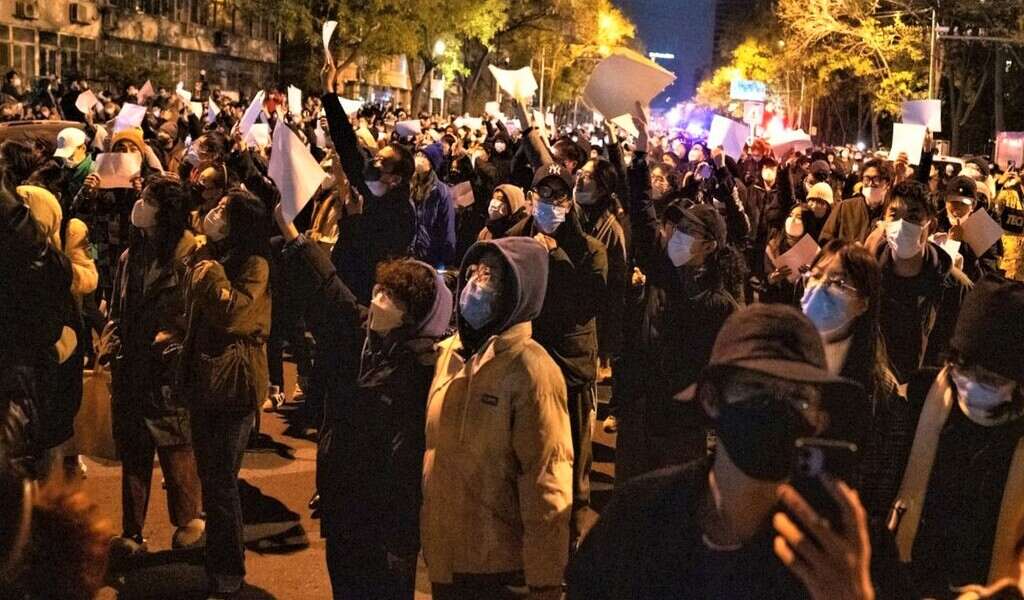 29
Nov

|
Reading Time: 3 minutes 7 seconds
|
by Admin
1
1
397
Protesters Chanted 'Give Me Liberty or Give Me Death' In China against Covid Lockdown, Audience Sentiments Plummeted To 69.1%: CheckBrand
Hundreds of protesters from China's main cities and colleges have taken to the streets to demand that the government release them from regular Covid testing and lockdowns, as well as stringent censorship and the Communist Party's growing hold over all aspects of life.
CheckBrand examined the digital platform that sparked demonstrations in China in reaction to the ambiguous Covid limits. As soon as the news of the outrage circulated, it became a digital sensation. Within 24 hours of the protest being started, its online engagement reached up to 5000.
According to CheckBrand, audience sentiment on dissent has plummeted to 69.1%. Surprisingly, the news coming from china received a 2924 Search Engine Score within the first twenty-four hours, according to findings from CheckBrand Analysis.

*Source Google Trend
Protesters are also calling for the resignation of Chinese President Xi Jinping. Across the country, "want freedom" has become a rallying cry for a wave of protests driven mostly by the younger generation. Massive protests are taking place in China against regulations that compel millions of people to stay at home owing to the development of COVID. Following the large-scale agitations, the authorities modified anti-COVID laws in a few localities, but maintained its strong "zero- COVID" stance on Monday.
"Give me liberty or give me death!" crowds chanted in many cities, according to recent YouTube recordings, as vigils marking the deaths of at least ten people in a fire in Xinjiang turned into political demonstrations.
Digital media has confirmed protests in 16 towns and institutions around the country, with indications of more protests in dozens of other cities and campuses. Protesters also screamed for free speech, democracy, the rule of law, human rights, and other political demands in cities ranging from Shanghai in the east to Beijing in the capital, Guangzhou in the south, and Chengdu in the west.
While protests in some places of China appear to have dissolved peacefully over the weekend, some experienced a more stern response from authorities. In a country where authorities have extensive monitoring and security capabilities, security has been strengthened across cities.
On Monday evening, a large police presence was visible in Beijing, a day after demonstrations erupted there. Young protestors around China held up sheets of white paper as a metaphor for the innumerable critical postings, news stories, and vocal social media accounts that have been removed from the internet in a symbolic protest against ever-tightening censorship.

CATEGORIES
HIGHLIGHTS
Popular Tags