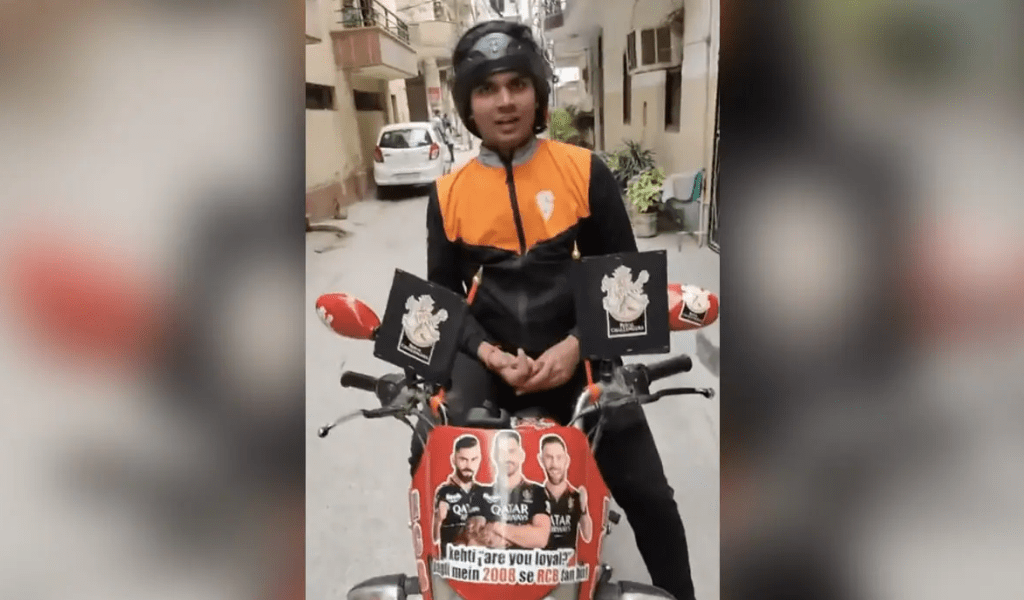 05
May

|
Reading Time: 2 minutes 13 seconds
|
by Admin
0
0
255
From Virat Kohli's stickers to RCB flag: Swiggy delivery agent goes viral for supporting RCB
Cricket is considered a religion in India, and fans of the sport have been expressing their love for their favorite teams and players during the ongoing Indian Premier League. A video of a Swiggy delivery person, who is being hailed as the biggest fan of Royal Challengers Bangalore, has gone viral on Twitter. The delivery executive's motorbike is covered in stickers featuring Virat Kohli and AB de Villiers in their jerseys, with slogans used by supporters of the franchise like "Ee Sala Cup Namde" and the team flag prominently displayed on the side mirror.
In the video, the delivery man expresses his admiration for AB de Villiers and how much he misses him this season. He also declares his unwavering devotion to former RCB captain Virat Kohli. The clip has gained over 1.3 million views and over six thousand likes since it was shared on Twitter by user Pulkit, who requested permission from the Swiggy delivery person before recording the video.
The video has prompted some interesting reactions from Twitter users, with one person suggesting that RCB should arrange a team dinner with the delivery man. Another user commented on the delivery man's long-standing support for RCB, stating that the fan base is becoming better than the team itself. Many users were impressed with the delivery man's loyalty to the team and his positive attitude towards them, even when they have not performed well in the past.
One person suggested that Swiggy should give the delivery man a day off and send him to see an RCB match. It is heartwarming to see how cricket can bring people together and unite them in their love for the sport and their favorite teams and players.
CATEGORIES
HIGHLIGHTS
Popular Tags