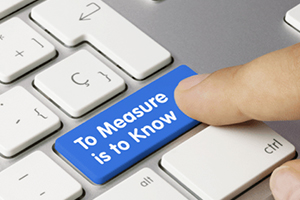 07
Oct

|
Reading Time: 10 minutes 36 seconds
|
by Admin
0
10
797
What Metrics Should We Focus On When Measuring Our Digital Programs?
Digital marketing metrics, when regularly monitored and optimized, will increase profits for each line of business.
A digital marketer using Google Analytics and similar inbound marketing tools has hundreds of metrics to consider when measuring their campaigns' results. So, where to start? For example; here is a shortlist of metrics that can be regarded as for getting started:
- Click rate of ads
- Number of website visitors
- Website traffic sources
- Conversion rates
- Costs per conversion
Naturally, the question will be asked which metrics are essential and why they should be followed.
Business Value Metrics vs. Activity Metrics
Before addressing five key metrics, it is necessary to briefly explain the difference between Business Value and Activity Metrics and these two.
Activity Metrics can be described as figures that measure current performance, such as website clicks, conversions, and sales rates. Business Value is the acquisition or creation of resources that will provide economic value in the future, such as an email subscriber list of the business. It is also necessary to know that there is often a trade-off between the two.
For example; When 50 thousand lire is spent on advertising to gain 10.000 email subscribers, assuming that the new email subscribers did not buy anything that month, the business's monthly profit would decrease to 50 thousand lire. However, in the future, these new subscribers will increase sales and profit. An action that reduces operational value can increase business value and vice versa.
When thinking on metrics, it is essential to consider both so that the business has a short-term and long-term picture.
Key 5 Metrics
1. Number of New Potential Customers
The first key metric is the number of new customers (Leads) or potential customers gained.
We can give an example for this metric; a user searches for a word related to your business on Google; it clicks on your AdWords ad or your website link that appears in organic search results and comes to your site. The visitors fill in the contact form on your site or contact you by calling your company and getting information about your services. This user is defined as a new potential customer, i.e., "Lead."
Customers are the primary factor for businesses to survive. That's why this metric is so important. If the number of new customers has decreased today, sales will decrease tomorrow. The differentiation of potential customers according to the type of business; therefore, making a standard measurement for each business is a big challenge for marketers. For this, potential customers can be identified, and business goals can be personalized using Google Analytics.
Most businesses have no idea that if they do not follow potential customers closely enough, the number of new customers will decrease. More precisely, they notice that new customers are running low, days or even weeks later, when sales have already fallen.
Therefore, marketers need to keep track of the number of incoming customers daily; thus, they can immediately see the decrease in customers and take action. Business information and semantic information that causes the decline are collected and interpreted, problems are eliminated, marketing optimization is provided, and even in this way, sales can be brought to a better level than before.
2. Potential Customers Conversion Rate
The second most important metric to watch is the conversion rate of potential customers to sales; this metric is defined as the "Conversion Rate". Conversion rate measures how potential customers become purchasers in one or more steps.
For this metric, based on the example we gave in the previous metric, an example is that a potential customer who comes to your website purchases a product if you are selling on your site or purchases a service after contacting you if your site is corporate.
With many digital marketing methods, you attract potential customers to your website, convince them to sell, and enable them to transform, that is, to make the purchase. It is imperative to follow the conversion process from start to finish, from getting leads to sales.
In this process, "Conversion rate optimization" is an essential concept in order to increase visibility and hence relevant traffic to your site and then convince you to sell. Many businesses run into trouble due to drops in conversion rates that they don't follow. If you understand what happens when the conversion rate drops, analyze it, and eliminate the problem, you increase your earnings.
Success is typically achieved in the adaptation process with the different options used to test visitors' movements until a successful method is agreed upon. For example, if two different information forms are tested and the number of visitors registered in which one is high, that page can continue to be used.
Its metrics are not just daily; you must review weekly and monthly. These metrics are especially relevant for conversion rates. Variations can always occur daily. Therefore, when examining daily performance measurements, one should not expect definitive results.
3. Conversion Costs
The most crucial ad metric for many businesses is conversion cost. Cost-per-conversion is the default ad spends unit cost as the instant conversion goal for your ad.
It is worth making an important reminder for this metric; conversion does not just mean sales. When a user comes to your website and fills in an information form, this process can also be defined as a conversion; conversion goals are the actions you will determine entirely. Conversion cost is a metric that must be followed, and its success must be measured.
For example, it only pays 1 TL for each click, and the conversion rate per click is 10%; then, the conversion cost will be 10 TL. Conversely, if you pay five times more per click, i.e., $ 5 and convert 80%, the cost per click will be $ 6.25.
4. Email Conversion
Email metrics such as open rates, clickthrough rates (CTR), unsubscribe are essential and critical metrics for tracking the entire email conversion. "How many email subscribers took action as requested? How many products or services have been purchased? How many people called the business or fill out a form? " Answers to such questions can be accessed by following and evaluating the email conversion.
When the major converting emails are identified, they become business value. After proven success, you can make similar email campaigns in the future by taking these emails as an example.
5. Maximum Income
The most crucial metric showing the operating results, "Contribution margin," with its English definition, is found by subtracting variable costs from sales revenues in the income statement. Net earnings are best viewed monthly. Because it is not practical to calculate and subtract the daily rate of the office's rental cost and the proportion of monthly expenditure, however, to find out that the earnings have decreased, the maximum income should be followed daily without waiting for the end of the month.
As a result, the best approach to net earnings and the key metric you should examine daily is maximum revenue. Maximum income; The cost of goods sold corresponds to the deduction of various expenses, such as advertising expenses, sales, or affiliate commissions, and is especially important for digital marketers. Because it is straightforward to increase sales by merely increasing online advertising expenditure, but even if these advertising expenditures turn into sales, a severe problem may be faced if they do not provide a sufficient profit rate.
Concrete Benefits of Tracking Metrics
By tracking and evaluating key metrics:
- You get more income.
- You see what works; you know what to do more. Do not forget about potential customer conversion.
- To attract more potential customers, you can identify successful digital marketing practices and repeat them not often.
- You save money. You can immediately notice and eliminate problems.
- The performance of your employees' increases. When you let employees see the metrics you choose, they will tend to improve their performance. Thus, you can objectively evaluate the employees.
Bob Parsons, founder, and CEO of GoDaddy: "Measure everything that matters. Everything that is measured and monitored gets better. "He may have expressed the best advice on this matter.
By identifying the most important digital marketing metrics for your business and analyzing them today, you will have taken an important step to improve your business performance in the future.
Tnokeemnxk
Tue, 7 Sep'21 04:52 AM
What Metrics Should We Focus On When Measuring Our Digital Programs? - Check Brand tnokeemnxk http://www.gi21r5egs0ta8sh2a1m53q004m7bf880s.org/ <a href="http://www.gi21r5egs0ta8sh2a1m53q004m7bf880s.org/">atnokeemnxk</a> [url=http://www.gi21r5egs0ta8sh2a1m53q004m7bf880s.org/]utnokeemnxk[/url]
Byyjfysyiw
Tue, 31 Aug'21 11:08 AM
What Metrics Should We Focus On When Measuring Our Digital Programs? - Check Brand byyjfysyiw http://www.g2kjxa4zru93m58g6ds5122b12e9h53cs.org/ <a href="http://www.g2kjxa4zru93m58g6ds5122b12e9h53cs.org/">abyyjfysyiw</a> [url=http://www.g2kjxa4zru93m58g6ds5122b12e9h53cs.org/]ubyyjfysyiw[/url]
Yxrnjflmt
Sun, 29 Aug'21 04:41 AM
What Metrics Should We Focus On When Measuring Our Digital Programs? - Check Brand [url=http://www.gb7aw8b786ok6p576q997lb5uakf017ws.org/]uyxrnjflmt[/url] yxrnjflmt http://www.gb7aw8b786ok6p576q997lb5uakf017ws.org/ <a href="http://www.gb7aw8b786ok6p576q997lb5uakf017ws.org/">ayxrnjflmt</a>
Warrenslala
Fri, 13 Aug'21 07:04 PM
<a href="https://gfbninja.com">https://gfbninja.com</a>
Hrccxbezxc
Fri, 13 Aug'21 09:07 AM
What Metrics Should We Focus On When Measuring Our Digital Programs? - Check Brand <a href="http://www.g09k783qrr1ywrtpjn276pr30s20c256s.org/">ahrccxbezxc</a> [url=http://www.g09k783qrr1ywrtpjn276pr30s20c256s.org/]uhrccxbezxc[/url] hrccxbezxc http://www.g09k783qrr1ywrtpjn276pr30s20c256s.org/
MicBluro
Tue, 3 Aug'21 06:10 PM
<a href="https://bushweedo.com/san-diego-cannabis-seeds-a-guide-to-purchasing-and-selling/">https://bushweedo.com/san-diego-cannabis-seeds-a-guide-to-purchasing-and-selling/</a>
Emhzshgyxh
Sun, 25 Jul'21 09:50 AM
What Metrics Should We Focus On When Measuring Our Digital Programs? - Check Brand [url=http://www.g3v514h977miz32i7cnn28c1jvd705yrs.org/]uemhzshgyxh[/url] emhzshgyxh http://www.g3v514h977miz32i7cnn28c1jvd705yrs.org/ <a href="http://www.g3v514h977miz32i7cnn28c1jvd705yrs.org/">aemhzshgyxh</a>
Orsgbrlicx
Sat, 24 Jul'21 04:30 PM
What Metrics Should We Focus On When Measuring Our Digital Programs? - Check Brand [url=http://www.gn2z9sn3k4hsla64yi6q67a4280wm748s.org/]uorsgbrlicx[/url] <a href="http://www.gn2z9sn3k4hsla64yi6q67a4280wm748s.org/">aorsgbrlicx</a> orsgbrlicx http://www.gn2z9sn3k4hsla64yi6q67a4280wm748s.org/
Pyxjkoojt
Sat, 24 Jul'21 04:23 PM
What Metrics Should We Focus On When Measuring Our Digital Programs? - Check Brand [url=http://www.g39nd9280mfxx4v2899tb95ik7m0zq8zs.org/]upyxjkoojt[/url] pyxjkoojt http://www.g39nd9280mfxx4v2899tb95ik7m0zq8zs.org/ <a href="http://www.g39nd9280mfxx4v2899tb95ik7m0zq8zs.org/">apyxjkoojt</a>
Rzxmbbllw
Thu, 8 Jul'21 04:10 PM
What Metrics Should We Focus On When Measuring Our Digital Programs? - Check Brand rzxmbbllw http://www.g1c81v98xztb57d2096g2ow7o5aacw01s.org/ <a href="http://www.g1c81v98xztb57d2096g2ow7o5aacw01s.org/">arzxmbbllw</a> [url=http://www.g1c81v98xztb57d2096g2ow7o5aacw01s.org/]urzxmbbllw[/url]
CATEGORIES
HIGHLIGHTS
Popular Tags