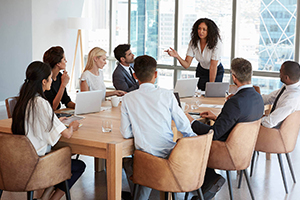 10
Oct

|
Reading Time: 17 minutes 10 seconds
|
by Admin
2
0
219
What's The Most Important Skill A CMO Needs?
CMO, - Marketing Director, is a person who is responsible for planning, developing, and implementing marketing campaigns for an organization.
The CMO reports directly to the CEO, and his main task is to increase sales revenue through marketing across all lines. A specialist in this position is engaged in market research, pricing, company product promotion, communications, advertising, and public relations.
In many cases, the CMO's responsibilities can expand to include sales management, product development and distribution, and customer service.
CMO ensures that the company's marketing message is distributed to targeted channels and audiences, and carries the optimal message for increasing sales. This also means looking for new ways to convey messages to the audience - developing mobile applications, creating videos, or exploring new content formats on social networks.
The CMO is becoming an increasingly important figure not only in the enterprise but also in the industry market, as evidenced by the ratings of the most influential CMOs. One of these ratings is annually compiled by Forbes magazine. Last year, Unilever's Keith Weed took first place. The following six positions respectively went to Antonio Lucio from HP Inc, Phil Schiller from Apple, Linda Boff from GE, Leslie Burland from Twitter, Mark Matthew from Samsung Electronics America, and Muze Tarik from Ford.
Since business strategy and success are highly dependent on effective marketing, CMO is an invaluable member of any organization. With the increasing role of marketing in business, the CMO position is becoming more versatile and dynamic. Most of the responsibilities of a CMO fall into three broad categories.
Strategic planning
SWOT analysis to identify microeconomic factors that will influence business management practices and the likelihood of ultimate success.
Preparation of a general marketing strategy, which includes analysis of growth and sales strategies. The resulting plan must be correlated with the general business plan of the company.
Elaboration of market segmentation, competitive analysis, market analysis in general, and criteria for pricing.
Data analysis
Forecasting business trends and customer behavior.
Providing and explaining technical reports based on the collection, analysis, and interpretation of data.
Facilitate important business decisions by asking important research questions.
Understanding the company's product
Supervising new product development and creating product roadmaps.
Control, organization, motivation, and performance evaluation of the sales department
The most accurate forecast of future sales and the required budget to achieve the indicated results.
Why Is It Critical To Talk About Skills?
There is no clear and user-friendly definition of skills for HR teams (and what cannot be defined, cannot be developed). The term already confirms the lack of development in this area.
Let's see: we speak of hard skills to refer to knowledge, while soft skills refer to skills. It seems that the term soft gives much less relevance to skills when the reality is the opposite. These facts confirm it:
Professional context: in the face of knowledge that changes very quickly, it will be skills that will take on new importance to improve our employability and our performance as professionals.
Lack of measurement: Measuring skills is tricky. What skills do you require as a professional? What is your level of development? Of your intrinsic skills, which ones are really useful for your job?
NECESSARY SKILLS AND REQUIREMENTS OF THE PROFESSION
CMO is a top-tier marketer, so it should be analytical and creative in equal measure.
A set of required skills and qualities
Analytical thinking;
Ability to inspire and manage a team;
Outstanding Interpersonal Skills;
Flexibility in work and management;
Passionate protection of the client's interests;
Impeccable knowledge of the principles of marketing, brand management, products, and services;
Deep understanding of changing market dynamics;
An entrepreneurial vision of the world.
Education requirements
The minimum requirement is a bachelor's degree in marketing; an MBA degree will play an important role. It is important to remember that in such a position, education is not decisive; much more attention is paid to the experience of a specialist. Most CMOs have about ten years of experience in marketing or in leadership positions in growing companies when they take over.
TRAITS OF A SUCCESSFUL CMO
To become not just a marketing director, but a successful marketing director, you need to learn from the best - adapt their philosophies, approaches, study strengths, and actions in crisis situations. The most successful CMOs provide an opportunity to highlight some recurring traits that are roughly divided into four areas: experience, leadership, business, and personality.
Experience
Technical savvy. To manage marketing today, you need to understand how things work.
Focus on design. The more you understand design, the better you will be able to correctly convey your vision to colleagues and the consumer.
Ability to see the life cycle of the market. You need to know what tools to use and how to measure the market environment.
Leadership
Foresight. A good marketer is one step ahead of the market; a talented CMO is two steps.
Good intuition about people. It is important to assemble a team of the right people, and for this, it is not enough knowledge about their qualifications.
Excellent communication skills. This is important for many reasons. Not only do you constantly communicate within the team, but you also share your story with your audience - through marketing messages.
Business
Entrepreneurial thinking. A good CMO is not only an experienced marketer but also a talented businessman.
Focus on growth. In all areas, the ultimate goal of CMO is growth - increasing the average check, market share, sales.
Customer focus. Everything a CMO does is work for the end customer and increases the company's value to him.
Personality
Curiosity. A good CMO is constantly learning, trying to understand new channels, processes, or platforms. Moreover, he infects the whole team with curiosity and a thirst for knowledge.
Responsibility. The CMO needs to understand the importance of taking on the weight of important decisions.
Attention to detail. Marketing could be attributed to the exact sciences, so it is impermissible to miss even the smallest details in it.
Willingness to take risks. Many successful ad campaigns have come from risky ideas and solutions. It's important to be bold, even if you're not sure about the outcome.
The main characteristics that a CMO needs in his team are:
1. Teamwork:
It may sound trite to you, but it is one of the qualities most valued by CMOs. Knowing how to listen to the opinions of others and be willing to collaborate is necessary to achieve the proposed objectives in an assertive way and maintain a good work environment.
2. Creativity:
Having the ability to observe reality from another perspective, to be able to generate other projects and innovates, is a skill that in the workplace allows finding solutions to everyday problems in a new way and generates strength in a team.
3. Empathy:
Empathy is related to the ability to perceive what the other members of a work team feel. This allows you to make assertive decisions that are in harmony with the work atmosphere.
4. Initiative:
Assuming tasks proactively and with a high sense of commitment are skills that are vital for a CMO, as it improves the overall performance of the team and allows them to achieve the objectives with greater efficiency.
5. Ability to communicate:
Creating assertive communication allows creating ties between departments and different types of people, achieving a higher level of understanding and understanding of all those involved in the process.
The Skills Dictionary
You cannot talk about skills without being clear about what exactly each of them means. Below we include the dictionary with the definition of all the skills for analysis and classification:
Individual skills:
Informative diet: Ability to select a nucleus of quality sources with varied information and in continuous revision to keep up to date with the news and developments of the sector
Comprehension: Ability to make sense of all the information received and prioritizes main/secondary messages
Research & Analytics: Ability to deepen and contribute new angles and data to the information received
Critical thinking: Faculty to ask meaningful questions and question the information received
Creative / Lateral thinking: Expertise in finding an original or divergent solution that solves a problem
Attention management: Ability to understand and focus on the information that is received by any means or person
Task management: Ability to organize the set of tasks to be carried out, prioritize them, contextualize, and order them
Time management: Faculty of planning all the tasks to be carried out based on the prioritized elements and the work contexts
Information management / Visual Thinking: Ability to structure the information received to make it understandable and to be able to work on it effectively
Mindfulness / Management of the stress: Dexterity impulses to balance stress and turn them into positive energy that encourages productivity
Problem-solving: Ability to identify the real root of a problem
Willpower / Resilience: Ability to overcome difficulties and adapt to a new adverse a priori situation
Creative writing: Ability to express ideas or projects with wit, and make them understandable in a clear and original way
Detail orientation: Faculty of managing the focus of a job to achieve the most suitable and exact result
Continuous learning: Capacity for self-assessment of individual learning to improve knowledge in a systematic way
Reporting: Ability to structure relevant information to report at the right time, content, and form
Technological ease: Ability to use technology to understand the logic of its operation and to solve the incidents that may arise
Self-demand: Faculty of demanding to go one step further to achieve excellent results
Interpersonal skills:
Creative writing: Ability to express ideas or projects with wit, and make them understandable in a clear and original way
Detail orientation: Faculty to manage the focus of a job to achieve the most suitable and exact result
Continuous learning: Capacity for self-assessment of individual learning to improve knowledge in a systematic way
Reporting: Ability to structure relevant information to report at the right time, content, and form
Technological ease: Ability to use technology in an optimal way, to understand the logic of its operation, and to solve the incidents that may arise
Meeting management: Know and know how to apply the necessary techniques to organize meetings effectively, with pre-established results, and without wasting time
Remote work: Ability to use telematic means to work in groups asynchronously and effectively
Emotional intelligence: Ability to understand and know how to work both one's own emotions and those of others efficiently. Knowing how to put yourself in someone else's shoes to understand their contexts.
Negotiation: Faculty to reach agreements between different points of view or to resolve conflicts of interest derived from different perspectives between people, departments, or companies.
Digital communication: Ability to communicate efficiently through digital media.
Calendar management: Ability to use digital tools so that the different members of a team or department organize their tasks –meetings, and projects– as effectively as possible.
Presentations: Ability to synthesize the work done in an understandable presentation that efficiently meets the established objectives.
Speaking in public: Ability to communicate clearly, understandably, and safely before an audience, regardless of the number of people or the support used.
Storytelling: Ability to build analogies and stories to make any fact understandable.
Persuasion: Ability to influence the beliefs, decisions, and actions of others, using reasons and arguments.
Business protocol: Ability to know how to follow a socially accepted protocol following unwritten rules of the professional environment.
Presence & personal brand: Ability to project an image aligned with a professional objective.
Management skills:
Team building: Ability to create dynamics that integrate teams under a common feeling.
Effective leadership: The ability to influence a team to carry out a mission in which each one contributes the most of himself.
Process management: Knowing how to define a specific mechanism at all times to achieve a specific goal.
Teaching: Ability to know how to share knowledge with the members of a team to enrich joint work.
Give Feedback: Ability to add value to employees in their jobs and projects in order to offer improvements and new points of view to achieve excellence through constructive criticism.
Planning & organization: Ability to effectively distribute tasks and roles within a team in a coordinated way.
Project management: Capacity for organization, knowledge, and motivation of the profiles involved, as well as control of resources to achieve an objective in an established time frame.
Cultural understanding and diversity: Knowing how to combine people's different capacities and cultures to extract a corporate result.
Team coordination: Know how to use the skills of each team member in a systemic way.
Conflict mediation: Ability to understand different interests and reach optimal solutions.
Corporate culture: Understanding the uniqueness of organizations to know the appropriate tempo and content at all times.
Talent management: Ability to identify the skills and talent of each employee and promote it correctly to increase the motivation and quality of the work performed.
Personal brand / Personal presence: Ability to project an image aligned with a professional objective.
Influence & persuasion: Ability to convince third parties about ideas, making them feels like their own.
Business Cases: Know how to translate the activity carried out by different departments into business cases to share them with the entire company and learn together.
Risk management: Ability to organize in uncertainty, analyzing possible threats, and developing strategies to combat them in order to minimize risks.
Supervision: Inspecting the work of other people in an optimal way, knowing when to offer greater autonomy or, on the contrary, to exercise greater control.
 
CATEGORIES
HIGHLIGHTS
Popular Tags