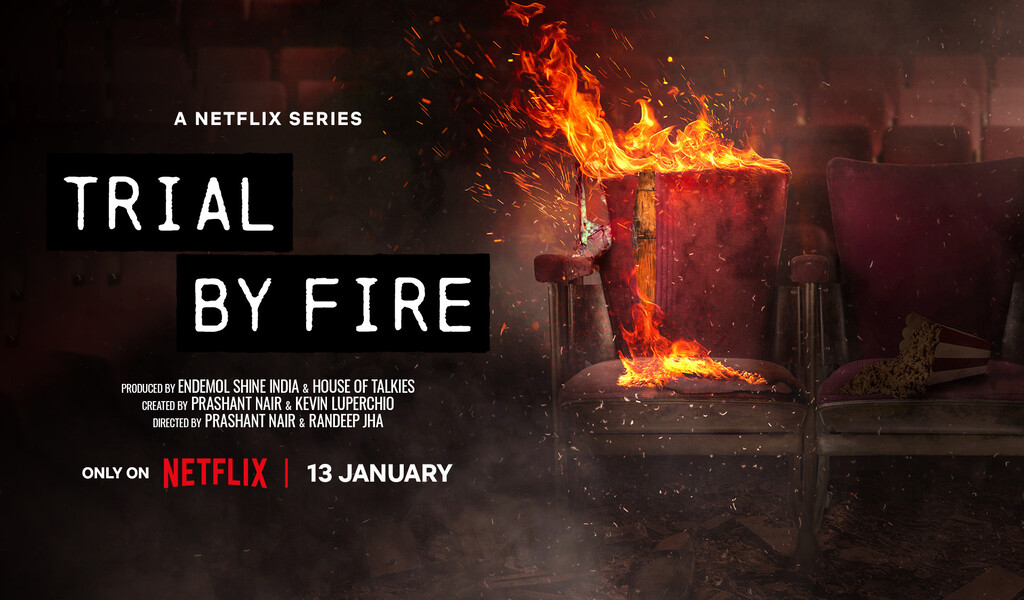 17
Jan

|
Reading Time: 2 minutes 38 seconds
|
by Admin
0
0
125
Netflix Series 'Trial by Fire' takes audience back to the 1997 Uphaar Incident; Read CheckBrand's Review of the Show
When a fire started in Delhi's Uphaar Cinema in June 1997, 59 innocent bystanders who were there to see JP Dutta's Border perished. However, the perpetrators of this man-made tragedy bore no responsibility and kept their agreement with the management a secret. Children of Neelam and Shekhar Krishnamoorthy who were among the victims included Unnati and Ujjwal, whose lives would be changed forever as they fought for justice in a system where nothing can change overnight. This true tragedy is explored in Trial by Fire, a new Netflix series created by Prashant Nair and Randeep Jha that pits people against a system that won't accept responsibility. It will require at least two decades from Krishnamoorthy.
The show has received an online engagement of 20.4K supported by 19.2% positive reviews and 20.4% negative reviews from the online audiences.
Trial by Fire, which is based on the memoir of the same name by Shekhar and Neelam Krishnamoorthy, starts its narrative on the day of the tragedy and develops over time. This is a multi-decade story that contrasts a tragic personal event with widespread negligence.
Trial by Fire succeeds so magnificently because of the writing's unusual ability to keep the audience's attention on the lives that the tragedy has ravaged. The television programme Trial by Fire explores the value and cost of perseverance. We witness two people whose lives will never be the same as Neelam and Sekhar search for justice using even the tiniest hints and scraps of evidence.
Abhay Deol does a good job portraying a man whose unwavering loyalty to his wife is undermined by even the smallest actions. He is accumulating his resources in bits and pieces despite knowing there is no way out once the years pass. Deol delivers a well-honed performance, with the exception of the brief run-in with an old friend that takes the form of a drunken detour similar to DevD-esque territory. Trial By Fire shines the brightest when the focus is on Rajshri Deshpande, despite all of the detours the story takes along the way.
CATEGORIES
HIGHLIGHTS
Popular Tags