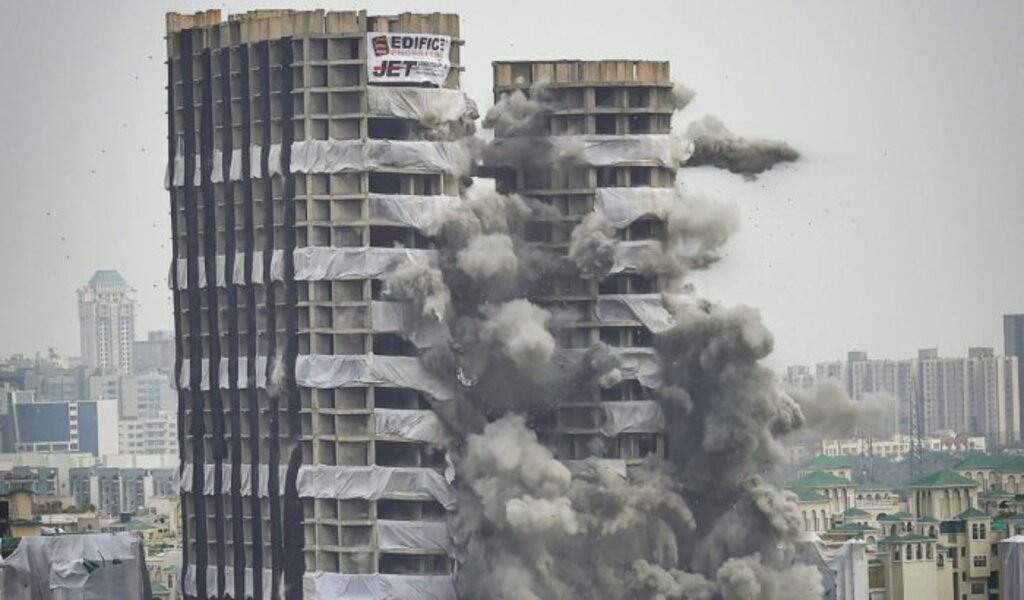 29
Aug

|
Reading Time: 2 minutes 28 seconds
|
by Admin
0
0
373
Just like the Twin Towers, Supertech's Brand Value Rests in Pieces: CheckBrand
"Corruption wins not more than honesty", abiding by these golden words of William Shakespeare, one more example of corruption was turned to dust in Noida.
On August 28, utilizing controlled destruction, the Supertech Twin Towers named Ceyane and Apex in Noida were demolished at around 2:30 PM. The arrangements for the destruction were happening for quite a long time, including one month of arranging and a half year of on-location arrangements. The destruction was executed utilizing 3700 KGs of explosives, and it was completed by two organizations named Edifice Engineering and Jet Demolitions, a South African organization that holds skill in such tear-downs.
The demolition of the well-acknowledged Supertech's Twin Towers was a piece of massive news that gained a lot of public attention and media coverage. CheckBrand followed up on this extensive media coverage & determined the productivity index of the same. By means of CheckBrand's reports, the twin towers received a digital engagement of 335.1K with 40.9% negative audience sentiments. The towers had a Search Engine Score of 2259 as of 29th August 2022.

*Source Google Trends
Apart from affecting the people around it, the demolition of these towers also influenced the brand value of the builder company Supertech. According to CheckBrand's analysis, the online engagement of Supertech was reported to be 69.8K with 27.2% negative audience sentiments, and its brand value dropped down to -49.3 crores. The Search Engine Score of the builder company was recorded at 3255.
The twin towers' destruction has caused well-being worries among individuals living in the local regions. It is probably going to cause half a month of medical problems like cerebral pain, asthma, assaults, colds, mucus, and sensitivities.
About Us: CheckBrand is an AI-enabled platform that tracks your online presence, to analyse the digital ranking, brand value and popularity index. Our Digital Ranking analysis is based on five factors; (1) Followers, (2) Trends, (3) Engagement, (4) Sentiment and (5) Mentions.
CATEGORIES
HIGHLIGHTS
Popular Tags