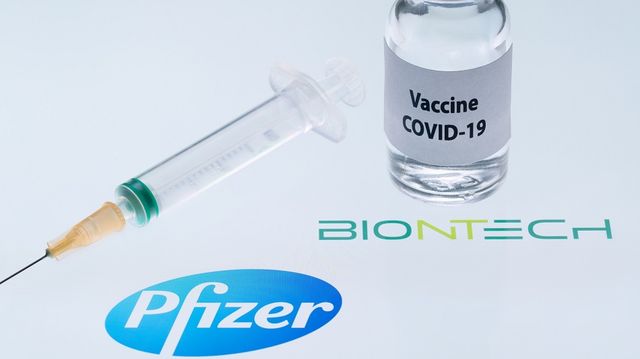 14
Dec

|
Reading Time: 4 minutes 55 seconds
|
by Ankush Rana
1
0
147
United States FDA APPROVES PFIZER COVID-19 VACCINES FOR EMERGENCY USE
The US Food and Drug Administration (FDA) granted an 'Emergency Use Authorization' (EUA) to Pfizer, a US-based pharma company for its Covid-19 vaccine, this makes it the first government authorization for a corona vaccine in the country.
Pfizer developed the covid-19 vaccine in partnership with a german pharma company namely BIONTECH. The development started under operation Warp speed, initiated by President Trump's administration earlier this year.
The Pfizer-BIONTECH vaccine has been developed at a remarkable production time i.e., just in 11 months, and the Trump administration had closed a deal of 1.95 Billion USD for a purchase of 100 million vaccine doses, much before the testing and trials for the vaccine.
Today the Food and Drug Administration (FDA) issued an Emergency Use Authorization (EUA) to Pfizer for its COVID-19 vaccine, the first authorization for a COVID-19 vaccine in the United States. Operation Warp Speed and private sector partners now begin distributing the first allocation of doses to sites designated by the public health jurisdictions and five federal agencies with which OWS and CDC have been working to plan distribution. Call it a risky deal but it seems to be paying its price.
During the initial trials of human testing with 44,000 volunteers, the Pfizer-BIONTECH showed a few side effects such as temporary weakness and paralysis in the vaccinated arm and some cases of swelled muscle tissues in a small group (less than 70) of volunteers. These subjected issues as informed by the Pharma Company, have been resolved in their final outcome of covid-19 vaccines.
As of now, these vaccines are supposedly for age 16 and older and are not suggested for kids and pregnant women.
"The US FDA has authorized Pfizer's COVID-19 vaccine for emergency use," said the Department of Health and Human Services, US government.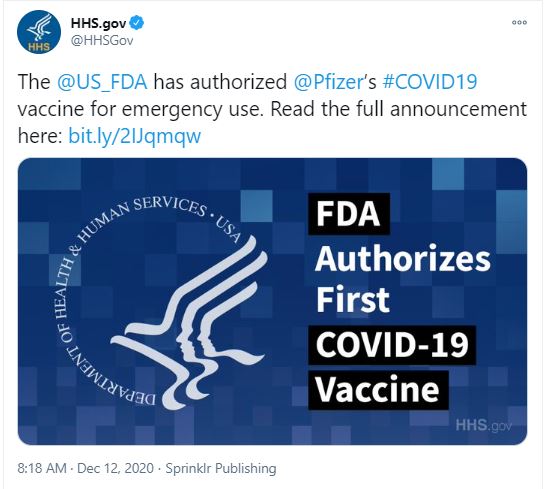 "The massive logistical planning our military has contributed to Operation Warp Speed gives me even more pride in the talent and dedication of our service members. They have been crucial in bringing a safe and effective vaccine to the American people and in restoring the health of our country." Said United States Acting Secretary of Defense, Christopher C. Miller.
Helen Branswell, Sr writer, infectious diseases at statnews said "This time last year we were blissfully unaware of a virus now known as SARSCoV2. This evening, the US FDA issued the first-in-the-US emergency use authorization for a vaccine to protect against it, made by Pfizer."
What US President Said on the matter.
"The Swine Flu (H1N1), and the attempt for a vaccine by the Obama Administration, with Joe Biden in charge, was a complete and total disaster. Now they want to come in and take over one of the "greatest and fastest medical miracles in modern-day history." I don't think so!", said US President Donald Trump.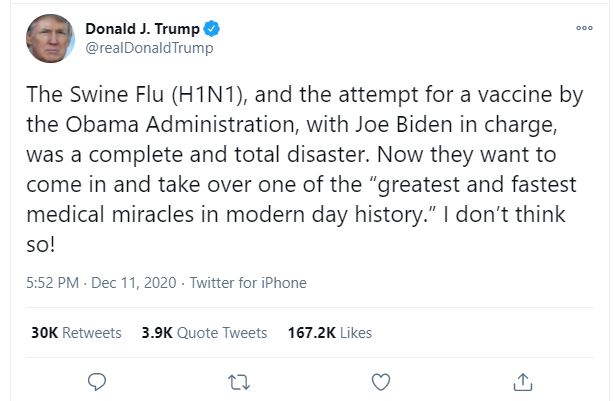 "FDA Approves Pfizer vaccine for Emergency Use!," he added.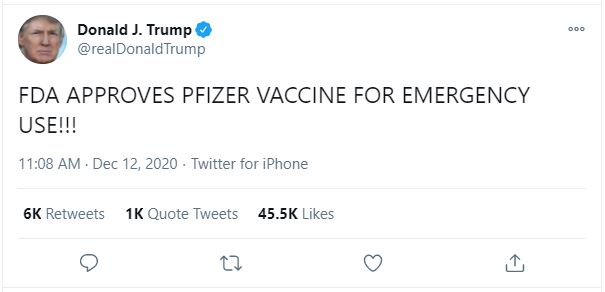 Impact of Covid-19 Vaccine Declaration on the Stock Market
The Pfizer CEO Albert Bourla sold around 62 percent of his company's stocks on the share market, soon after the results and approval of vaccine trials. The shares were sold for 41.94 USD per share, which very close to their highest share price of 41.99 USD for the year 2020.
The covid-19 vaccines would have varying prices for different countries: Pfizer
The Global Pharmaceutical company Pfizer said that it'll have varying pricing for its Covid-19 vaccines. The company thrives to provide these vaccines to almost every corner of the world.
We're keeping a close watch and will keep you posted on the updates related to the COVID-19 Vaccines. Do check our trending news section to keep yourself updated on everything that's going around on the globe.
CATEGORIES
HIGHLIGHTS
Popular Tags