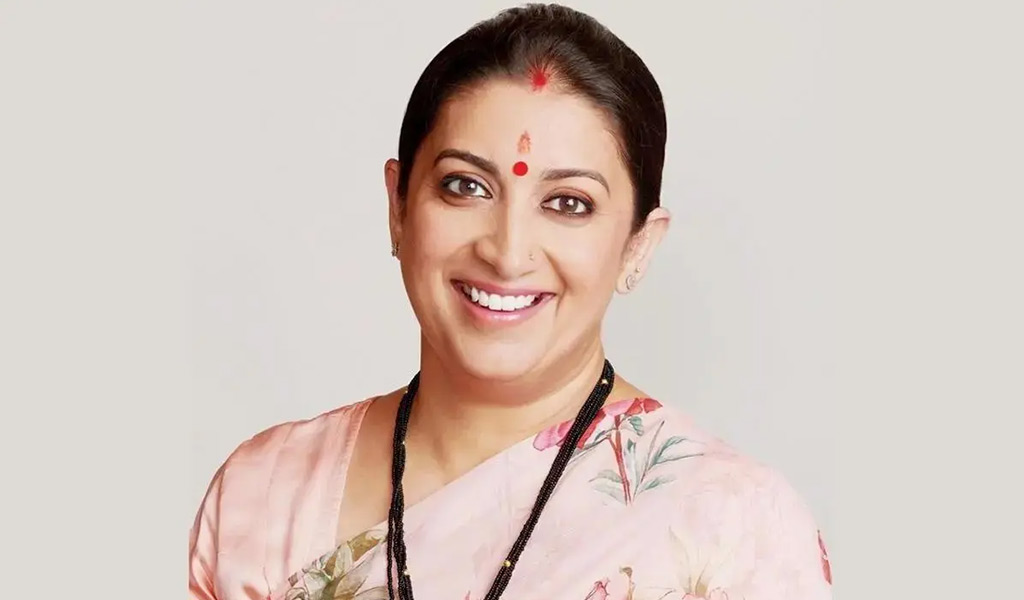 05
Nov

|
Reading Time: 5 minutes 22 seconds
|
by Admin
0
0
263
The Minister of Minority Affairs Gains a Digital Brand Value of 38.17 Crore
Higher Engagement on Internet Increases Smriti Irani's Popularity Index
In 2011, Mrs. Smriti Zubin Irani was chosen to serve as the Gujarat State's representative in the Rajya Sabha, the Indian Parliament's Upper House. She won re-election to the Rajya Sabha in Gujarat in August 2017. She defeated the former National President of the Indian National Congress to win a seat in the Lok Sabha at the 2019 General Elections in the Uttar Pradesh constituency of Amethi. Mrs. Irani is now the Minister for Minority Affairs and the Union Minister for Women and Child Development. She formerly held the positions of Minister for Information & Broadcasting from July 2017 to May 2018 and Minister for Education (originally Human Resource Development) from May 2014 to July 2016.
CheckBrand monitored all social media platforms and found out about Smriti Irani's Popularity Index in the digital realm. Her online presence has made her attain a digital ranking of 7 in CheckBrand's list of Top 100 politicians. She has also gained a whopping digital brand value of 38.17 crore. Besides this, she has an online engagement of 4.8K supported by 5.6% positive sentiments.
Her Presence on all Social Media Platforms Has Uplifted Smriti Irani's Digital Ranking
Recently, she was seen in the news when she along with BCCI took a historic decision of giving equal pay to the women cricketers of the National Team, saying that it was a significant achievement towards gender equality. She also appears in news every now & then due to multiple controversies with the opposition party.
Following the release of a new video showing Gujarat AAP president Gopal Italia making fun of Prime Minister Modi's mother Hira Ba, Union minister Smriti Irani referred to him as a "gutter mouth". After the AAP leader received backlash for his remark about PM Modi, other BJP leaders uploaded the video. Following his appearance before the National Commission for Women on Thursday, Gopal Italia was also held by the Delhi Police for 2.5 hours. The incident featured a day-long BJP-AAP attack and defence.
Her Contribution towards the people has had a great impact on her digital brand value
As Minister of Education, Mrs. Irani introduced a number of educational reforms to strengthen India's capabilities in the areas of technology, research, and innovation. The National Digital Library, the Global Network of Academicians known as GIAN, the first MOOC platform in India called SWAYAM, and the New Education Policy of India were all large-scale projects that she spearheaded. To encourage research, innovation, and technology among students and academia, she founded IM-PRINT. In three months, during the global lockdown, she was able to mobilise both public and private sector firms while serving as the minister of textiles during the Covid-19 Pandemic, making India the second-largest producer of PPE in the world.
She successfully pushed for a permanent commission for women in the Indian Army while serving as national president of the women's wing of her political party, the Bharatiya Janta Party, by providing legal advice to female officers. She is recognised with creating "Saksham," the first political party in India to ever create a vision document outlining policies, initiatives, and implementation strategies for the advancement of the Differently Abled in India. Mrs. Irani was overwhelmingly chosen during the 126th Inter Parliamentary Union (IPU) Assembly to serve as a Member of the Task Force charged with creating the organization's first-ever Committee for Young Parliamentarians. She represents the Asia Pacific Region on the Task Force. Mrs. Irani was also unanimously chosen by Member Nations to serve as the Standing Committee on Sustainable Development, Finance, and Trade's rapporteur during the same assembly. Mrs. Irani has been selected the Young Global Leader from India for 2015 by the World Economic Forum. Before entering politics in India, she worked as the USAID Goodwill Ambassador to India for the WHO-ORS programme.
In addition to being a social and political activist, Smriti Irani has had a successful career in the media for more than 20 years, beginning in 1994. She worked in a variety of media industries throughout this time, including producing content for news and entertainment. projects for theatre, movies, and television in four Indian languages.
CATEGORIES
HIGHLIGHTS
Popular Tags