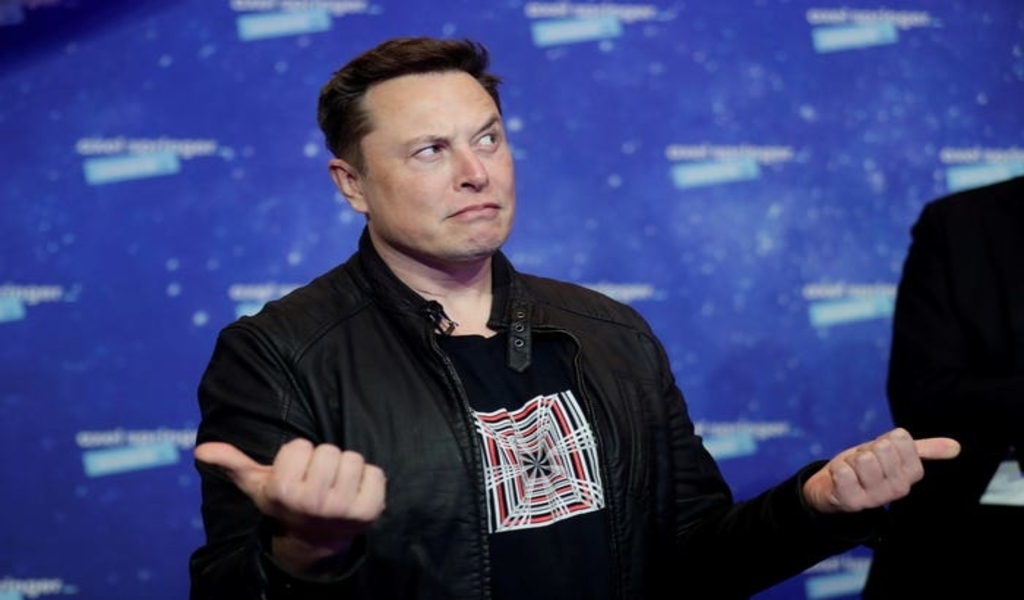 03
Feb

|
Reading Time: 4 minutes 53 seconds
|
by Tushar Kanti
0
0
361
The Curious Case of Elon Musk and Bitcoins
Elon Musk has a tendency to take the internet by surprise every now and then, often using marketing gimmicks. The entrepreneur cum richest man in this world wrote "bitcoin" on his official twitter handle: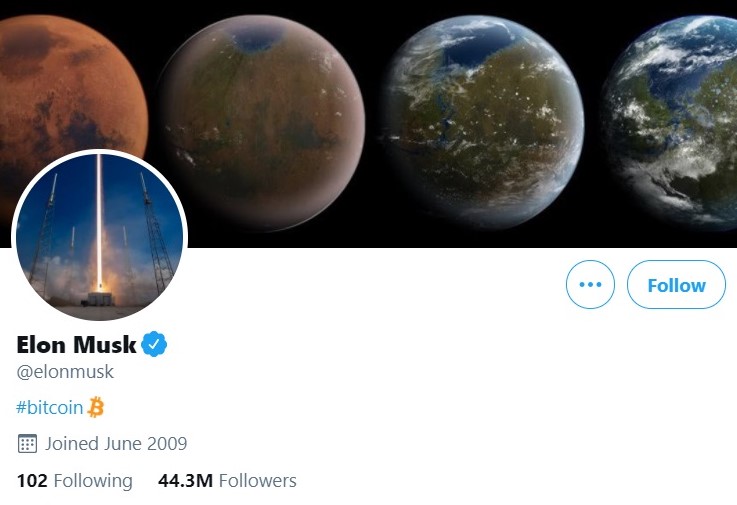 Following this bitcoin jumped as much as 14% on Friday, 29th January, touching its highest for 10 days. The largest cryptocurrency rallied above $36,000 as per reports.
What is a Bitcoin?
Bitcoin is a cryptocurrency invented in 2008 by an unknown person or group of people using the name 'Satoshi Nakamoto'.Going strictly by defination, it is basically a decentralized digital currency, without a central bank or single administrator that can be sent from user to user on the peer-to-peer bitcoin network without the need for intermediaries. Transactions are verified by network nodes through cryptography and recorded in a public distributed ledger called a blockchain. As per the last reports published by the University of Cambridge, there were 2.9 to 5.8 million unique users using a cryptocurrency wallet and have been rising with each passing day.
Bitcoin spiked about 15% within minutes as the London trading day got underway. On the day, Bitcoin hit as high as $37,060 and was last up 10% at $36,711.
Earlier, Musk had also sparked a massive rally in Dogecoin after tweeting an image of a "Dogue" magazine cover featuring a dog (whippet) in a red outfit. The digital coin which was originally created as a joke went up about 300% in the last 24 hours.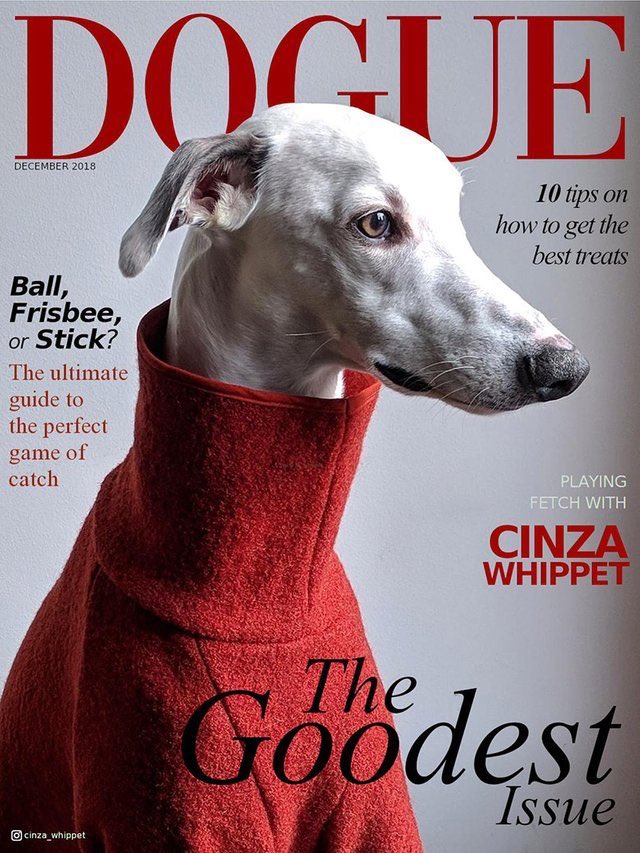 What is definately seen in the recent years that Musk's tweets to his 43.7 million on Twitter, often take the internet by storm which is now being famously coined as the "Musk Effect".
The price of bitcoins too were a 'victim' of the Musk Effect and soared high in the markets: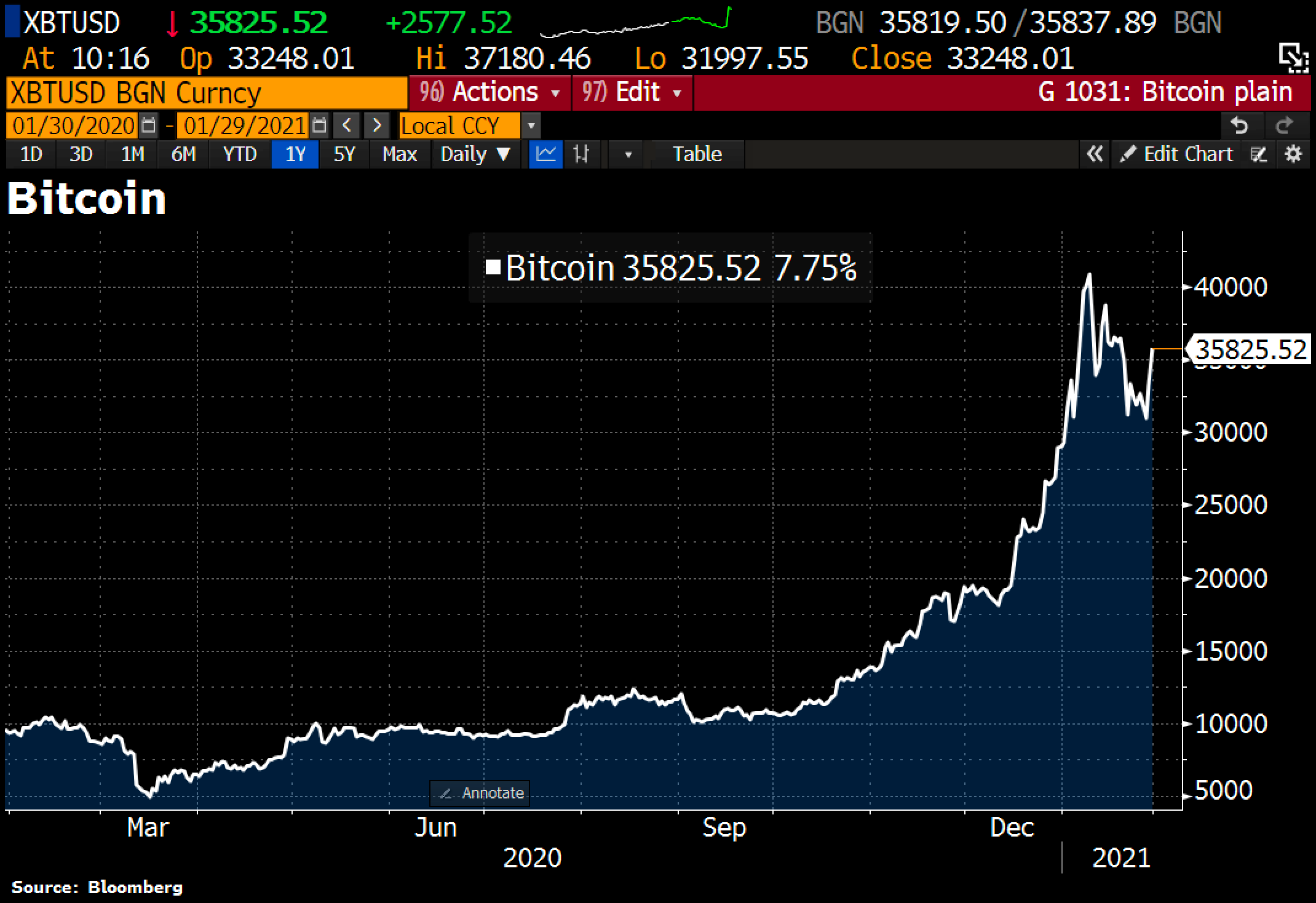 Netizens were quick to react to and it became one of the top trends on the social media: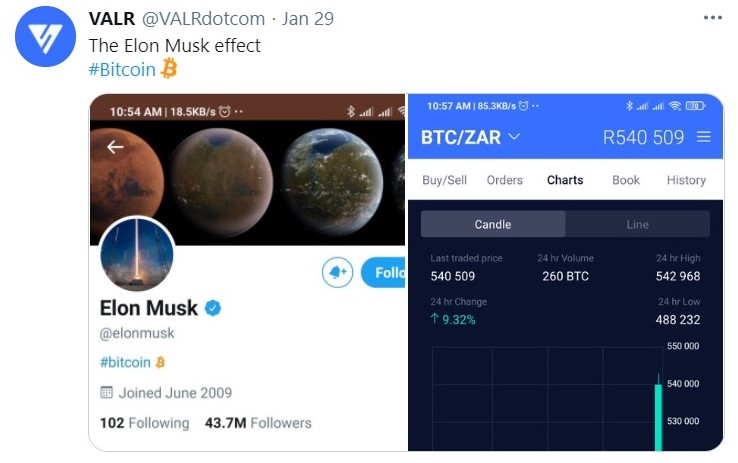 And ofcourse there were memes too: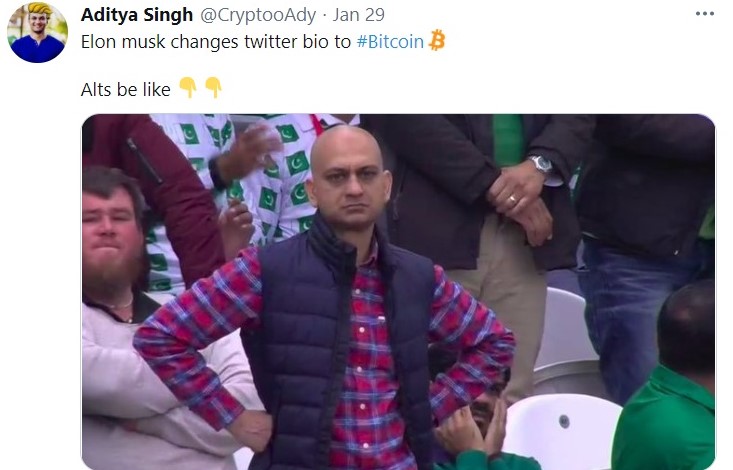 Even earlier, the CEO cum founder of Spacex and Tesla and currently the world's richest person tweeted two simple words from his Twitter account to his 42 million followers. "Use Signal." However, the investors mistook it for the stock share of a company called 'Signal Advance Inc.' and invested in it. According to Bloomberg, by the end of the day, Signal Advance Inc. shares had surged more than sixfold. That was enough to push Signal Advance's rally more than 5,100% .
GameStop Corp, which has been at the centre of retail trading frenzy, surged 50% after Musk tweeted "Gamestonk!!".
Musk has always been a supporter of Digital Currency. In December last year, Musk asked about the possibility of converting "large transactions" of Tesla's balance sheet into bitcoin.
Musk has also been an advocate of climate change. Recently, he took to Twitter to promise a $100 million prize for development of the "best" technology to capture carbon dioxide emissions.
Antoni Trenchev, the managing partner and co-founder of Nexo in London, which bills itself as the world's biggest crypto lender commented: "Obviously this huge melt-up is due to Elon's tweet, Musk's support for Bitcoin "creates a safe zone for some of the smaller companies and possibly everyone in the S&P 500 to allocate into Bitcoin,".
Cryptocurrency stocks also surged. Marathon Patent Group Inc. and Bit Digital Inc. were up more than 20% in U.S. pre-market trading.
The Billionaire effect seems to certainly take the internet by storm. Musk, who is an inventor himself, often propagates the new dimensions in the field of science & technology with a humour which seems to capture the hearts of his followers and the netizens likewise.
To keep yourselves updated with the latest trends in the financial field, don't forget to visit Checkbrand.

CATEGORIES
HIGHLIGHTS
Popular Tags